Inter-institutional and scientific work allows studies to be carried out on stranded species in Arica and Parinacota region
June 12th, 2022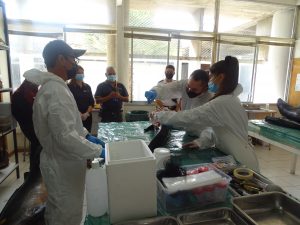 A necropsy was carried out on several specimens of marine fauna that have stranded in the area and that were kept in the IFOP facilities.
With Sernapesca Arica officials presence together with maritime authority, Fisheries Development Institute (IFOP) staff, members Universidad de las Americas (UDLA), Universidad Santo Tomás (UST) and thanks to Universidad de Tarapacá (UTA), who were this meeting hosts, which was managed by Pablo Valladares ( Faculty of Sciences biology department academician ), giving up his Applied Zoology laboratory facilities for this important research work.
Necropsies were carried out on 4 marine mammals specimens corresponding to two black or spiny porpoises (Phocoena spinipinnis), a dwarf whale (Kogia sima) and a chungungo (Lontra felina) which will allow knowing their stranding and death probable causes, giving anstarting point to future research and to protection measures and campaigns strengthening towards these animals.
Sernapesca Arica Regional Director Christian de la Barra Rob, highlighted how interesting it was to participate in this instance as an institution, given that it allowed active knowledge to be transmitted to Sernapesca regional staff and, in this way, to be able to attend and respond to its community regarding strandings. observed in the area.
Frederick Toro Universidad Santo Tomás academic explained these necropsies importance which involves chilean native species and have different degrees of conservation and scientific knowledge, such as the case of the dwarf whale, which very little information is known thus making it possible to obtain data on these species biology and establish the stranding cause .
In addition, he delved into some stranding causes such as the spiny porpoise or the dwarf whale case where everything would indicate drowning as a probable cause, due to macroscopic findings. In the chungungo's case , histological and toxicology analyzes had to be carried out, since nothing evident was found.
Sernapesca regional director also indicated that it served as an instance to generate and strengthen inter-institutional ties with specialists with great expertise in necropsies, especially of cetaceans.
Hernán Padilla Esparza, IFOP Regional Head highlighted the importance of continuing to strengthen Protected Fauna Stranding Network at Arica and Parinacota region. These necropsies coordination is an important advance in this matter, since it allows us to have more information on potential causes that caused these dead animals presence on the coastline. IFOP has been part of this inter-institutional network since its creation in 2020 and in the face of the stranding events that occurred in the area, it has played an active role in the sampling and custody of protected species.
Source: Sernapesca