IFOP holds a successful marine species exhibition at Arica's school
November 6th, 2022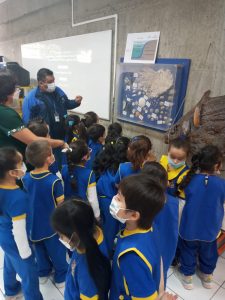 Between May 26th and 27th, an exhibition of marine species was held at Ford College, organized by Fisheries Development Institute, Arica Headquarters. This activity, aimed mainly at promoting the importance of scientific research and our oceans care, it is carried out every year during May, in different schools in the region.
On this occasion, the exhibition was attended by approximately 250 elementary and middle school students and their teachers. The presentations and the exposition were in charge of IFOP's scientific observers Daniel Fuenzalida, Ladislao Carrasco, Oscar Contreras and Patricio Muñoz. During the event, interesting topics related to the species life's history, conservation and biodiversity of hydrobiological resources and the importance in the care of the different ecosystems were addressed.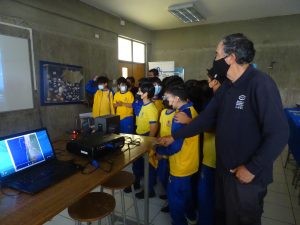 During the activity, children and young people listened attentively to the presentations and were delighted to learn about different marine species, including, among them, main fishing resources of Arica and Parinacota region. In general, students and teachers valued the experience of learning more about the oceans and their resources, topics that are sometimes quite unknown to us and to a large part of the community.
Along the same line, Hernán Padilla, IFOP's regional head highlighted the importance of this type of activity and the high interest shown by students who attended the exhibition. In addition, he stated that our Institution strives every year to bring science a little closer to students of Arica and Parinacota region. These instances help young people to visualize scientific work importance and ideally become interested in this area of knowledge, since it is in science where progress is most required in our country. At the same time, we seek to make the community aware of the important public role that IFOP performs, supporting the country's sustainable development of fishing and aquaculture sector.
It should be noted that the exhibition was initially scheduled only for Thursday, May 26th, but due to the interest generated in the educational community by IFOP's exhibition. It was decided to extend it one more day.
Press related links