IFOP Director visits Puerto Montt's Aquaculture Division
November 6th, 2022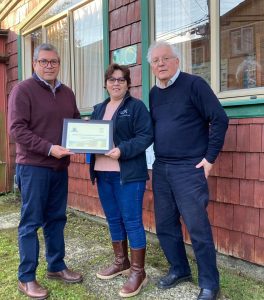 from Monday, May 30th and Thursday, June 3rd, Fisheries Development Institute (IFOP) Executive Director Mr. Gonzalo Pereira Puchy, a few days after taking office, visited IFOP's Aquaculture Research Division unit. Which operates decentralized and is headquartered in Puerto Montt city.
During the tour, he learned about this division structure and organization, in addition to currently under development research, short and medium-term plans, in addition to knowing advanced human capital and research work support. An occasion in which he also got to know available infrastructure and equipment, work carried out through Environment, Hydrobiological Health, and Repopulation and Cultivation departments .
The opportunity was also conducive to access research centers located on Chiloé island. Putemún center, located near Castro, where a group of 25 people work in oceanographic, climate and seabed ecology. soft; Hueihue experimental center, established in Manao vicinity , a few minutes from Chacao, with a staff of 10 people. In addition to the researchers who come from Puerto Montt on a regular basis, and which supports small-scale aquaculture, climatic change, and salmon louse related research among others.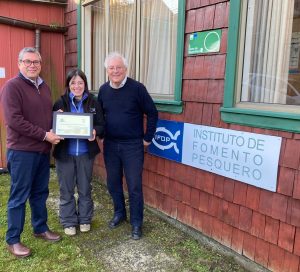 On the occasion, he also had access to the Harmful Algae Research Center (CREAN), located in Puerto Montt, a unit that focuses its work on harmful algae blooms and marine toxins knowledge and monitoring, with a staff of 25 researchers, technologists and support staff, but it also has working groups in Puerto Aysén (6) and Punta Arenas (8). The opportunity was propitious to learn about gaps, short and medium-term solution proposals, in addition to taking detailed knowledge of the existing project aimed at equipping the division with an institutional building in Puerto Montt city, which solves a long-awaited requirement.
Leonardo Guzmán, Aquaculture division's head referred to the visit in very positive terms, acknowledging that just days after assuming the Executive Directorate, he had included in his agenda visiting the technical division that develops its work, from national coverage to regional in this case, at Los Lagos region. In addition, he indicated that he was able to interact with people in charge of departments and centers as well as several researchers, leaving several tasks to be addressed, mainly aimed at resolving infrastructure issues in the short term, particularly in research centers, without prejudice to the definition of research plans that allow addressing issues that have not yet been addressed and that are part of the institutional mission.
Finally, Dr. Guzmán pointed out that the visit occurred a few days after IFOP celebrated its 58th anniversary, an institution created on May 26th, 1964.
Press related links