IFOP Workshop " Direct assessment protocols of soft bottom benthic species definition associated with areas regime management "
November 20th, 2017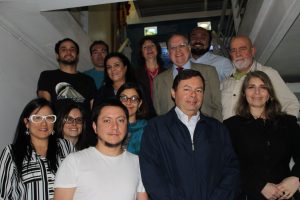 On November 14th in Valparaíso, IFOP developed a workshop with the participation of Subpesca experts, and consultants dedicated to IFOP research subjects. The objective was a protocol for the direct evaluation of soft bottom benthic species definition, associated with the Management Areas (AMERB) regime.

Luis Figueroa, IFOP researcher explained "with more than 15 years of AMERB implementation, there is still uncertainty about information of OTE studies carried out, which presents biases arising from main species various sampling methodologies, making temporal performance interest indicators evaluation difficult of.

In order to advise the Undersecretariat of Fisheries and Aquaculture in AMERB's field , a standard protocol should be established for direct evaluations of soft-bottom benthic species

In this context, it was first noted, as a working group, methodologies have been tested to see different situations, with this experience being about generating and implementing a unique protocol for this type of resource, then a simple presentation is made where the general protocol body is presented where different sectors suggestions were taken. For this purpose, "Definition of direct assessment protocols of soft bottom benthic species associated with the Management Areas regime" will be carried out.

"This is important because in this way we ensure timely and quality data generation to determinate of resources status such as quotas allocation for each AMERB," concluded Figueroa.