IFOP participates in Tongoy schoolchildren labor fair.
November 21st, 2017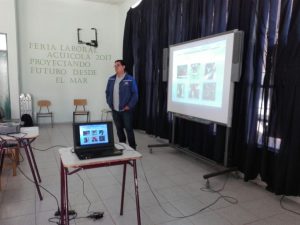 Yerko Peña senior technologist and Alejandra Valencia scientific observer both IFOP workers, participated in the labor fair organized yesterday in Tongoy by CEAZA in conjunction with Liceo de Tongoy, to motivate educational development of the lyceum young people.
In the activity, professionals met with high school students of aquaculture professional technician career of Liceo Polivalente Carmen Rodríguez Henríquez from Tongoy, to explain the work they do linked to the sea and the scope of studying technical careers in a country where the sea is such an important source of resources that we have to take care of it.
The students were able to talk with IFOP professionals who answered all their queries about IFOP Fisheries Development Institute and the outstanding work in fisheries and aquaculture that IFOP develops in Chile.
Yerko Peña who participated in this activity said "it is very important to transmit to new technicians generations our institutional work, the work we do, fisheries that we monitor, with the aim of orienting them in the positions they could eventually occupy. Also, the interaction with other institutions related to the marine fishing and aquaculture field ".
Denise Boré Atacama-Coquimbo Zonal Head, highlighted the importance of IFOP participation staff in making their experiences known, our institution work and its important role in fisheries and aquaculture research in the country.