Participatory Environmental Monitoring System in Coastal Communities Manual is published
July 7th, 2021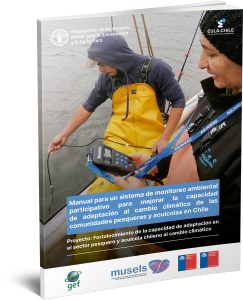 The institutions in charge of the initiative highlighted that a participatory environmental monitoring system is key in order to to strengthen artisanal fishermen and small-scale aquaculturists capacity to adapt to climatic change.
Fisheries and Aquaculture Undersecretariat (SUBPESCA), Environment Ministry (MMA) and United Nations Food and Agriculture Organization (FAO) published the Manual for a participatory environmental monitoring system to improve adaptative capacity to climatic change in fishing and aquaculture communities in Chile.
The document was prepared within the framework of "Strengthening adaptation capacity in Chilean fisheries and aquaculture sector to climatic change",project with financing from Global Environment Facility (GEF) and implemented in four pilot coves in the country: Riquelme, Tongoy, Coliumo and El Manzano-Hualaihué.
Both the design and the execution of the project recognized that, to face the consequences of climate change, the participation of local communities, governments and the scientific world is required.
In this context, Universidad de Concepción through its Environmental Sciences Center (EULA) and Multiple Forces on Marine Socio-ecological Systems Research Center (MUSELS), together with researchers from Universidad Arturo Prat and Arid Zones Advanced Study Center (CEAZA), designed and executed a participatory environmental monitoring system to improve adaptation of fishing and aquaculture communities capacity to climatic change.
This system design and implementation was carried out through a "community monitoring" approach in which people were trained in order to obtain environmental data that were later analyzed by the scientific team. As a result, people who participated showed a greater interest in environmental monitoring and recognized its importance for productive activities, facing climatic change effects.
This system provided learning and basic requirements to implement future participatory monitoring programs in fishing coves, being a key factor, communities interest and commitment and having financial and human resources for local monitors training and Program sustainability over time. To achieve this, project experts identified as essential to generate initiatives local governance, made up of public and private institutions, scientists and above all, local organizations.
As part of monitoring system applied to pilot coves, a Manual was produced for a participatory environmental monitoring system that improves the capacity to adapt to climatic change of fishing and aquaculture communities in Chile, which includes Chilean coast general characteristics and climatic change effects, as well as a facilitators guide to accompany monitoring fishing coves implementation.
"Women high participation and interest in coves both in theoretical activities and in practical activities, such as, for example, field trips, was a fundamental pillar to carry out this type of monitoring by the communities in the coves. In addition, the manual is very valuable since it allows replicability, both at the national level and in other countries in Latin America, the Caribbean and other regions ", said José Aguilar-Manjarrez, Fisheries and Aquaculture Officer of the FAO Regional Office for Latin America and the Caribbean.
For his part, Environment Undersecretariat , Javier Naranjo Solano, indicated that "one of the best ways to promote adaptation and develop adequate strategies for managing climatic change associated risks, is scientific and local ancestral knowledge combination and, increasing coastal ecosystem understanding and providing concrete and scientific information that supports observations made daily by people associated with the fishing sector ".
Fisheries and Aquaculture Undersecretariat, Alicia Gallardo Lagno affirmed that " men and women who are dedicated to fishing and aquaculture have extensive knowledge of the areas where they carry out their activities. In this sense, it is necessary to provide tools that allow them to record and systematize information to support decision-making in their productive activities, and through collaboration with researchers and public institutions, develop adaptation measures in a participatory manner ".
Participatory environmental monitoring: an adaptation strategy
Fishing coves Community environmental monitoring implementation could be a key tool to support decision-making of small-scale fishermen and / or aquaculturists, facing coast climatic change effects, since it allows people who live and work in this area on a daily basis to observe and record environmental variability, identifying anomalous events and / or effects on resources and their productive activities. These monitoring have the advantage of directly linking communities and scientists, making people learn in practice and can contribute to institutional monitoring.
According to this project team, this type of monitoring implementation requires having enough professionals and technicians trained to work with coastal communities. In Chile there are 467 coves and 92 thousand artisanal fishermen, to which must be added small-scale aquaculturists, the main challenge of the institutional framework being to achieve coverage that allows reaching the entire sector.
The Manual is available for download at:
FAO and Centro-EULA. 2021. Manual for a participatory environmental monitoring system that improves the capacity to adapt to climatic change of fishing and aquaculture communities in Chile. Santiago de Chile. http://www.fao.org/3/cb3579es/cb3579es.pdf
Description of the Photograph:
Monitoring of environmental variables with mussel, clam and razor clam collectors in Caleta El Manzano. At the end of the training by Luisa Saavedra (Centro-EULA), Ms. Maida Gueicha, Marlene Coli and Yolanda Subiabre mentioned that "they learned how environmental monitoring equipment works" and highlighted these monitoring importance to understand the environment where resources live and how they could be affected by climatic change.© Fernanda Oyarzúnnoticia y foto FAO