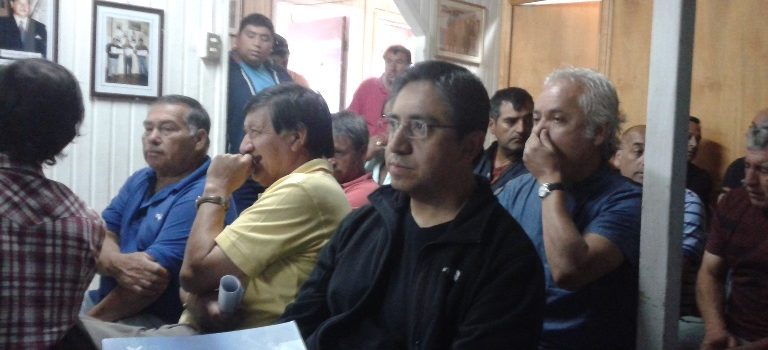 Discard project of IFOP leads meetings with fish workers, heads and industrial fleet captains
May 6th, 2016
At Region del Bio Bio (Talcahuano, Caleta Tubul, San Vicente, Coronel, Coliumo), at Región de Valparaíso (San Antonio) and Región de los Ríos (Valdivia and Corral).
The Instituto de Fomento Pesquero (IFOP) is developing a series of meetings with fish workers under the "Discard Research Program at siege fisheries of small pelagic," being this project financed by the Department of Economy and Small Business. Its objective is to develop a Program of Scientific Observation which improves and temporally supplement the coverage and results of the Research Program of Discard and Bycatch study, contributing to the compilation of technical antecedents to be used in the preparation of a discard reduction plan, both the objective species and accompanying fauna, and also the bycatch fishing during fishing operations of siege pelagic, and so, move forward in the compilation of info that allows the application of an approach and fisheries ecosystem management.
Topics discussed at meetings focus on presentations on the Law of Discard, birds, mammals and sea turtles by-catch, International MARPOL Convention (Annex V) and training in logbook filling of self-report for ship owners and captains of artisanal vessels.
Cristián Villouta Vergara, Field Coordinator of POC (Pelagic Discard) in IFOP explained that "the meetings have been very well received by users of artisanal fisheries. However, it is necessary to continue working together and so promote more links between research institutions and artisanal fishermen."
He also emphasized the role of the observer in the project, "they raise the necessary information to support the project, and that is, they collect biological data – fishing, of the objectives resources. They gather information of discard; bird, mammals and sea turtles bycatch, interaction with other species, accompanying fauna and obtain information about the compliance with MARPOL International standard (Annex V) on plastic waste management on board vessels, both artisanal and industrial ones. Another key role of the scientific observer is the education of the ecosystem approach in the fishing vessels. It is very necessary, especially in the artisanal vessels, to raise awareness about waste management on board; prohibition of dumping garbage into the sea because of pollution. Besides, it is important to see the fundamental roles of marine species in our ecosystem, and the impact on wildlife of birds, mammals and reptiles that are incidentally caught by vessels. This is the reason why is very important the education and work with fishermen and between institutions."