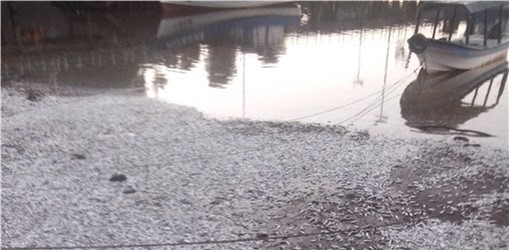 Sardines' stranding ashore at queule is a natural event, which should be analyzed through scientific criteria.
May 10th, 2016
Valparaíso, 16/04/2016.- The Instituto de Fomento Pesquero (IFOP) is a scientific research institution of Chilean state, which advises in the decision making about marine resources, is investigating the stranding of sardines in Queule.
"The stranding of fish and other organisms, such as mollusks and shellfish, are events which occur usually during summer time in some areas of Chilean cost. During summer of 2015, several events of this same nature occurred in the coast of Region del Bio Bio. At that time, sardines mainly run ashore, which according to information compiled, it would have been associated to the raising of upper limit of minimum oxygen zone during the time of bigger surge flow of deep sea floor, common annual standard of that sector in front of Concepción", according to what informed by Leonardo Núñez, marine biologist and Executive Director of Instituto de Fomento Pesquero (IFOP).
This aquatic species inhabits in depths of no more than 50 mt. during the day, and among 5 and 15 mt at night. According to information obtained from oxygen and temperature sampling of water, which were carried out on March 23 by Gobernación Marítima de Valdivia, low oxygen and temperature levels were found between 10 and 15 mt deep, being this an antecedent to be considered as important. Also, last year at Bio Bio coast, shoal of sardines would have been subjected to unfavorable conditions, being this a probable cause of the high mortality.
Likewise, other investigations on this phenomenon have pointed out other causes, such as disease by pollution caused by man, harmful algal blooms, lack of food, or other physico-chemical changes of water bodies. "The Instituto is investigating all these probable causes, and for this purpose, a team in situ was formed and they took samples from stranded species, which were sent to the laboratories of a local university, in order to establish the more probable causes of this phenomenon" informed the Director of IFOP.
"The team observed 4 species stranded, and from these, 96% were common sardine (Strangomera bentincki) and the remaining was anchovy (Engraulis ringens), sea bass (Eleginops maclovinus) and silverside (Odontesthes regia), which means that this phenomenon is not exclusive for common sardine. Now, we are waiting for those results, and we will analyze other antecedents that are being collected, in order to determine the possible cause as accurate as possible.
These phenomena of massive fish mortality should be considered with a broad approach to define the probable causes; and it is prudent not to advance any pre-conclusion about the state of Sardina resource, from these infrequent events" added Nunez.