Novel research on Krill fishery in Climatic Change context
November 4th, 2022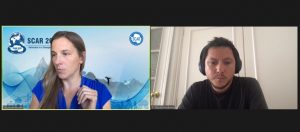 This research was presented at the Scientific Committee on Antarctic Research 2022 annual conference.
Between August 1rst and 10th, 2022, the annual Scientific Committee on Antarctic Research Conference (SCAR) was held, which this year was organized by the Ministry of Earth Sciences (MoES), of the Indian Government in online mode .
Researchers from the Resources Evaluation Department, from IFOP's Fisheries Research Division participated in this event.
The conference has become SCAR's main activity supporting its mission to promote and facilitate international Antarctic and Southern Ocean science. These biennial meetings are fertile ground for exchange of the latest and greatest results in Antarctic research and a place where future collaborations are born.
Mauricio Mardones, IFOP researcher explained that "The presentation was part of the doctoral thesis work that I am doing at Universidad de Magallanes within the framework of Antarctic and Sub-Antarctic Sciences Program jointly with the Chilean Antarctic Institute, in which César Cárdenas ( UMAG-INACH) is the Thesis director. My thesis project focuses on developing aspects related to the evaluation of strategies for Krill fishery management in a Climatic Change context in the Southern Ocean. In particular for this conference, progress was made in the development of models that integrate environmental and ecological components to the assessment of the Antarctic Krill stock in the Antarctic Peninsula".
This talk will be available on the SCAR page during this week. (https://scar2022.org)
Mauricio Mardones is a Resource Assessment Department researcher and is currently working on methodological approaches for benthic and demersal fisheries within the department, with an emphasis on data analysis and visualization and the application of integrated models to understand the dynamics of exploited marine populations.