IFOP participates in the Seminar "Innovating with data: strengthening public auditing"
November 4th, 2022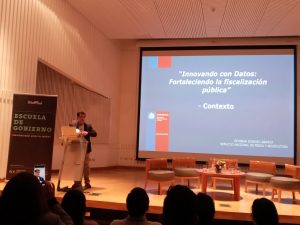 at Universidad Adolfo Ibáñez (UAI) facilities in Viña del Mar, the Seminar "Innovating with data: strengthening public control" was held, an event organized by national fishery and aquaculture service (SERNAPESCA), Government Lab Public Innovators Network , an agency of the State of Chile, dependent on the Ministry of Finance and this higher education institution, in order to disseminate research and initiatives , SERNAPESCA together with UAI, have developed based on science data and image processing for fishing and aquaculture control.
In this context and introductory mode, María Paz Hermosilla, Director of UAI Government Laboratory, Diana Krüger, UAI School of Government,Dean and Esteban Donoso, SERNAPESCA National Sub Director , presented.
Continuing the presentations with the work corresponding to "Cargo reports analysis to find fraudulent fishing vessels" project , by Dr. Sebastián Moreno, UAI academic. And then with the project "Video analysis to detect anaerobic seabeds in salmon farming centers", which was presented by Dr. Miguel Carrasco, also an UAI academic .
The seminar ended with a discussion panel moderated by Javiera Miranda, Government Laboratory Public Innovators Network's Coordinator , dependent on the Ministry of Finance, in which María Paz Hermosilla (UAI), Constanza Silva, Sub Director (S) of Aquaculture participated from SERNAPESCA, Esteban Donoso (SERNAPESCA), and Catalina Gutiérrez, Head of Agile Consulting of Government Laboratory, state agency.
The event was broadcast via streaming and had a great turnout with a very participatory virtual public diversity which made various inquiries to the exhibitors online. Meanwhile, various representatives associated with the sector attended presencially and on behalf of IFOP's Executive Director Jaime González Information Technology Department 's head assisted (DTI), and Gonzalo Muñoz, General Coordinator, attended representing its Sampling Management Department.
Jaime González, information technology department's head explained "Although issues related to auditing are addressed during the program, it can be pointed out that data science in conjunction with innovative technologies allows addressing diagnoses, proposals and solutions that can also be research oriented. The activity is an invitation to continue developing innovative tasks, either from scratch, replicating and/or adapting different techniques associated with data science".
About the event, Gonzalo Muñoz, said that "this type of progress will undoubtedly be of great support to control work, complementing and expanding its actions, so necessary to achieve adequate surveillance and control in the areas addressed, fishing and the environment. , and at the same time it visualizes how this type of information can contribute to different organizations and their different roles, like ours, in the sense of helping us in advising decision-making for the sector".