Abate Molina scientific vessel's crew is trained in automatic defibrillators use and first aid.
July 29th, 2022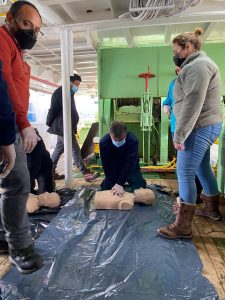 During July, Abate Molina Scientific Vessel Crew carried out 2 practical workshops on First Aid and Automatic Defibrillator use(part of the Vessel's equipment ).
An AED, or automated external defibrillator, is an electronic device that allows heart rhythm examination and determine if an electric shock application is necessary in people who are in cardiac arrest or, as taught in the course, people who do not respond, do not breathe and have no pulse.
Those who find themselves in these emergency situations require immediate attention, since heart stops providing blood to the brain as well as to other organs and can cause death in minutes, which is why the successful incorporation of this device to BC Abate Molina, It means an invaluable contribution if a situation like the one described above arises.
This training was organized by Training and Prevention Areas belonging to Human Resources Department jointly with Marine Operations Department (DOM), included an online course and practical workshops on board of Abate Molina Scientific Vessel in which both crew such as Researchers and Technicians from Oceanography and Environment Departments, Direct Assessments and Management Areas and Oceanography Sections, thus training all those who operate and/or use the ship in the different research cruises.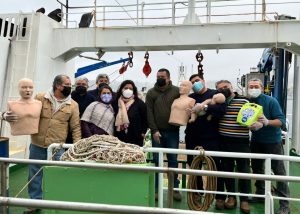 In this regard, Patricio Herrera, Marine Operations Department Head indicates that "the course was very useful, since it allows the entire Ship's crew as well as a good part of researchers who frequently embark, to have the knowledge and ability to help their colleagues in case of an emergency.
Having people trained in AED use and in First Aid can mean the difference between life and death, especially in the context of research cruises where first aid is very relevant, given the distance from medical care centers, For this reason, the commitment to learning in the course is very relevant when it comes to knowing how to perform in an emergency, as indicated by Abate Molina Scientific Vessel's Captain Mr Enrique Quiero, "the need to train us is articulated from the crew itself , for the same reason they performed the course in a very participatory manner in the practical workshops, which were very clear and instructive for all participants".