Andrés Couve Minister of Sciences participates in "Challenge of harmful algal blooms in the Aysén region" discussion
March 30th, 2021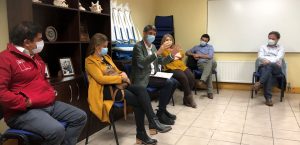 On March 19th, in SERNAPESCA Aysén meeting room, Andrés Couve Science, Technology Knowledge and Innovation Minister, participated in "Challenge of harmful algal blooms in the Aysén region" discussion.
Regional authorities and Fisheries Development Institute researchers were present at the Activity.
Dr. Alejandra Lafon, IFOP Aysén base chief, referred to the visit and discussion as "a great opportunity to present monitoring and research work progress on red tide carried out by IFOP in the region since 2006, as well as a valuable instance so that jointly, Minister Couve, and Dr. Pamela Santibáñez, Science Ministry SEREMI, researchers and regional authorities, can exchange ideas and analysis on this problem that impacts both productive, social and health level. public health, identifying possible synergies and actions that allow progress in future alternatives for regional well-being ".
.
For his part, Dr. Oscar Espinoza González, commented on his presentation in discussion with Dr. Andrés Couve, in which the historical problem generated by Harmful Algal Blooms (FAN) Aysén region, his effect on society and economy, strategies and new tools for HAB detection used by the Center for Harmful Algae Studies (CREAN), phenomenonprojection due to climate change and future challenges.