IFOP pays tribute to Aysén fisherwomen
March 30th, 2021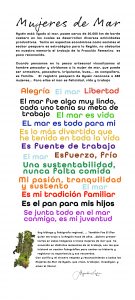 Following Women's Day celebration, Fisheries Development Institute (IFOP) jointly with INDESPA and Aysén Region Fisheries Zonal Directorate, recognized coastal artisanal fisherwomen, through a photographic exhibition of some women from Puerto Raúl Marín Balmaceda, Puerto Puyuhuapi, Puerto Cisnes, Puerto Aysén and Pilcomayo.
The exhibition was held on March 17th, on I. Municipality of Puerto Aysén second floor , a space graciously given by Mayor (S) Felisa Ojeda. It was attended by Luis Campos, zonal fisheries director, Andrea Paillacar from Indespa Aysén.
A special recognition was also made to one of the women portrayed who was able to be present at the Eduviges Montiel activity.
The exhibition's objective is to show the feminine side of artisanal fishing that is generally little visible and recognized.
Alejandra Lafon IFOP Aysén base Head and speaker explained "My motivation is to highlight women's presence in Aysén artisanal fishing and also to show their image to be able to visualize them,… close, real, far from stereotypes, we can find ourselves with them on the street, she could be our neighbor, our friend and we do not associate her with work at sea. Although women's participation in fishing records is low (close to 20%), in Aysén are artisanal fishermen that are in fact women, leaders of artisanal fishing organizations, shipowners, divers, women who have small processing plants. Generally, when we think about this activity, we visualize the fisherman and forget the woman of the sea, who is also a family, a companion, and vibrates with that lifestyle.
I am a regional photographer and I would like to show our coastal Women's faces, whom when asked about the meaning of the sea for them, they spaeak about joy, passion, tradition, effort and the daily bread for their family "