IFOP researcher exhibits at the Chilean Navy citizen training program
March 24th, 2021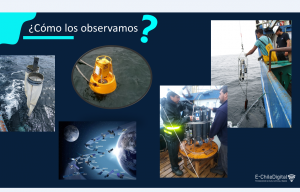 It is an unprecedented school project that seeks to deliver educational content to young people, in a playful and fun way, with the aim of contributing to their training as citizens of our country.
Between March 15th and 19th, Chilean Navy jointly with e-Chile Digital, carried out the first citizen training program aimed at teachers and students with presentations by various specialists, aimed at increasing maritime awareness, knowledge of the navy and marine science.
The week began with the event opening. At the ceremony, authorities were present, such as the Navy Commander-in-Chief, Admiral Julio Leiva; Defense Undersecretariat, Cristián de la Maza, the Japanese Ambassador in Chile, Shibuya Kazuhisa, participated in person, with Minister of Education Raúl Figueroa virtual presence.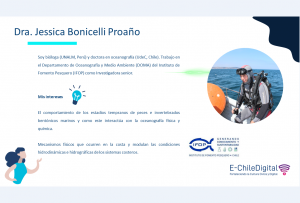 On Friday March 19th, was the Energy Efficiency and Marine Research Day, as speaker Dr. Jessica Bonicelli, IFOP oceanography and environment department senior researcher. In her presentation, entitled "Observing the ocean", Dr. Bonicelli exposes the importance of the oceans, methodologies and equipment used to monitor spatial and environmental conditions temporal variability.
In addition, it reveals some key aspects of the project "Interoperable Information System, which systematizes and integrates fishing, aquaculture and climate change data", which is being developed by IFOP and whose objective is to make quality public data and information available scientific for medium and long-term decision-making.