Chilean researchers attended the 18th International Conference on Fish and Seafood Diseases held in Northern Ireland
September 12th, 2017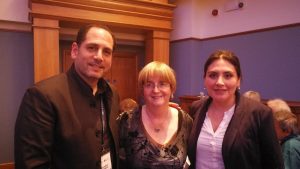 Representing IFOP Institute of Fisheries Development Juan Carlos Quintanilla, and Paola Olmos attended the meeting, offering the presentation "Monitoring and surveillance of salmonid pathogens in wild and feral fish populations in southern Chile"
The activity was organized by the European Association of Fish Pathologists (EAFP) and was held in Belfast, UK – Northern Ireland, from September 4th to 8th.
The Conference brings together renowned scientists and specialists in the ​​pathology and diseases area affecting fish and mollusks, caused by both viral, bacterial and parasitic agents. Participants include exhibitors from several countries, including Norway, Scotland, Chile, Italy, Ireland, United Kingdom, Australia, Spain, France, Brazil, South Korea, among others.
Key topics include: viral and bacterial diseases in fish and mollusks, fish nutrition and health, parasitic diseases, emerging pathogens, fish and mollusk immunology, host parasite interaction, disease diagnosis, epidemiology in aquatic animals, wild and ornamental fish, use of immunostimulants and probiotics, vaccines in fish, among others.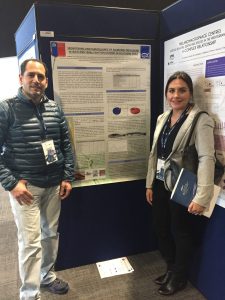 Juan Carlos Quintanilla, veterinarian and project manager, and Paola Olmos, Marine Biologist and Laboratory Chief, attended the meeting: "Monitoring and surveillance of salmonid pathogens in wild and feral fish populations in southern Chile"
"Our work aims to present the results of a 6 year study, which has been the monitoring and surveillance in the detection of viral and bacterial pathogens affecting salmonids in wild fish populations in southern Chile . This line of work has been developed in the Institute through its Department of Hydrobiological Health since 2010, which has involved a multidisciplinary team of professionals, including veterinarians, marine biologists, biochemists, technicians and staff support. We believe that attending this conference will allow us, in addition to presenting our results, to interact face-to-face with researchers from other countries, which will enhance our technical capacities, as well as improve or implement new diagnostic techniques in the detection of disease-causing pathogens of high sanitary risk. "Quintanilla concluded