IFOP exhibits at Agroecological Fair in Ancud
September 13th, 2017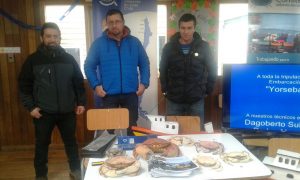 It was held at Colegio San Juan de Ancud events hall, and researcher Paulo Mora participated, jointly with artisanal fishermen from Ancud crabbers committee.
The agroecological fair; is an instance where local producers introduce the community to sustainable food locally produced. It is organized by Colegio San Juan de Ancud.
In this context, IFOP is supporting Ancud's crabbers committee in the certification process of their fishery under Marine Stewardship Council (MSC) standards; an independent global non-profit organization that establishes a standard for sustainable fisheries, managing a certification and eco-labeling program for wild fisheries.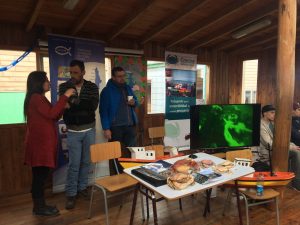 Pablo Mora explained that "the objective of participating in this fair is to show the community what is IFOP task in the monitoring of benthic crustaceans fishery, and working together with artisanal fishermen to generate instances like this. In addition, the artisanal fleet of the Ancud Committee of crabbers is the only artisanal fishery in South America that is going through this certification process.
Being at this fair gives us the possibility of making a closer approach to the community to make our work better known, it allows us to show our work, and it is also good for this group of fishermen to show their activity to the community, and also to spread the process they are experiencing, with which they seek to carry out sustainable fishing under very strict standards. This is why we are supporting them as a technical team in this fair and in the whole process, which is very relevant, and that will surely mark a milestone within the artisanal fishery of the area "