Research on Brown Algae status seeks to advance over conservation measures for the resource
May 2nd, 2017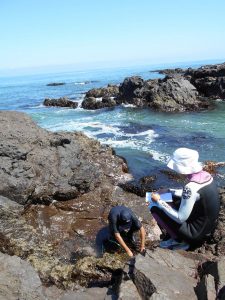 The results of the project "Direct macrolagic extraction algae/impact over benthic community" was presented in Iquique. This research received funding from the Fishing and Aquaculture Research Funding and Subfishing. This research determinated levels of abundance and biomass of kelp, chilean kelp and giant kelp in the region.
The results of the scientific research"Direct assessment of macro algae extraction impact over benthic community was presented with representatives of several artisan fishing organizations of Tarapaca Region. Maritime Government and Aquaculture and Fishing Central Management, professionals from IFOP (Fishing Promotion).
This project was funded by FIPA Research Fishing and Aquaculture Fund of Subpesca with an investment ranked over 100 million pesos and determinating abundance and biomass levels of spp Macrocystis resource. Lessonia Berteroana and Lessonia Trabeculata from Tarapaca Region in order to establish a sampling protocol to allow extractive activity assessment over these resources over associated communities in this field of study.
Among main results presented by IFOP researchers Luis Henriquez and Francisco Galleguillos it stands out that algae prairies mainly Chilean kelp are composed by small plants which indicates an important degree of exploitation. Brown algae exploitation in Tarapaca Region is mainly concentrated over Huiro Negro in boat yards and coves located at the extreme south and north of the region.
Researchers also presented results linked to experiments to determinate growth speed on algae extraction effects over fauna that lives in and among algae and a model proposal to estimate biomass reap.
Marco Soto Zonal Fishing and Aquaculture Director for XV I and II Regions. He indicated that currently there is a huge demand for brown algae at the international markets considering its gels many uses. This situations goes to a great demands for this product recollection at the Chilean coasts. For this reason this region has a management plan that grants order and establish some requirements for the recollection of this resource and in this way avoiding its over explotaition. This research contributes with important data to be complementary to the management plan and in this way granting brown algae continuity at the region.