Instituto de Fomento Pesquero and Universidad Arturo Prat Signed an Agreement
October 5th, 2016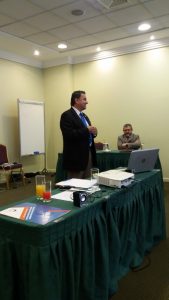 Executive Director, Mr. Leonardo Nuñez, signed the agreement for IFOP and rector, Mr. Gustavo Antonio Soto Bringas for the University.
Instituto de Fomento Pesquero and the University Arturo Prat de Iquique, signed an agreement of mutual cooperation. The signing took place on Friday, September 30 in the premises of hotel Diego de Almagro in Iquique; there were present official representatives of the School of Renewable Natural Resources of UNAP and the Executive Director of IFOP, Leonardo Nunez.
The agreement objective is to establish relations between the two institutions and promote collaboration, academic, scientific and cultural exchange between the University and the Institute.
The parties will define an annual joint work program. The formulation of a program and consequent compliance program will depend on the coordinators of this program, appointed by the respective institutions. In the case of IFOP, is Dr. Jaime Letelier Pino, Head of the Department of Oceanography and Environment, and for the University, the Dean of the Faculty of Renewable Natural Resources, Dr. Rosalino Fuenzalida Fuenzalida.
The agreement allows the development and dissemination of research work between the two institutions, so, a mutual program of action, research, education, training, extension and publication will be developed; especially in fisheries and aquaculture issues. Also, will include performance of training, improvement, student internships, thesis, lectures and workshops.
The agreement will be in effect from the date of signature and will last indefinitely, without prejudice for the parties to terminate it unilaterally, decision which will be informed written with a notice of 90 calendar days.