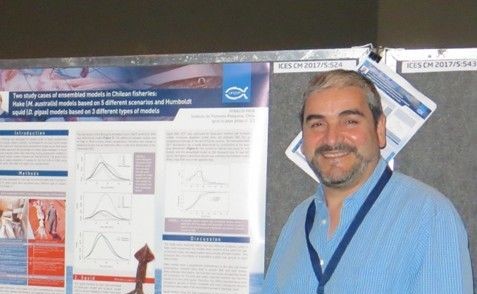 Ignacio Paya IFOP researcher participated in ICES Annual Conference
October 17th, 2017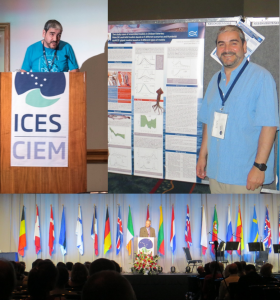 Ignacio Paya contribution shows two study cases, southern hake, where different models are assembled that are variants of the same base model, and cuttlefish, where the assembled models are structurally different.
The Annual Science Conference of the Sea Research and Exploration Council (ICES) was held in September in Florida, USA. Hundreds of European and North American scientists participated in 13 different topics, from fisheries to ecosystems. During the conference, advanced research and research was presented and discussed, including development work not yet published.
Thanks to IFOP's agreement with CORFO, marine biologist Ignacio Paya, stock assessor and member of the Chilean Technical Scientific Committee, presented the contribution "Two study cases of ensembled models in Chilean fisheries: hake (M. australis) models based on 5 different scenarios and Humboldt squid (D. gigas) models based on 3 different types of models ".
Ignacio referred to his work "the main idea is that the current management is based on selecting the" Best "model to define the catch quota, eliminating other possible models. The new approach seeks to assemble different possible models to best represent total uncertainty. Model assembling is used in meteorology, for example, to predict the trajectory of hurricanes, but it is only recently being explored for use in fisheries and management.
The contribution shows two study cases, southern hake, where different models are assembled that are variants of the same base model, and cuttlefish, where assembled models are structurally different. The model assembly became an important part of the discussion of the section, where questions arose such as: What should be the domain of the models to be assembled? How to weight the different models in the assembly? How much uncertainty should be reported to decision makers? Assembling models in fisheries would allow better management of fisheries, explicitly (weighting) the different possible models, and better approximate the total uncertainty. "