IFOP remodels Talcahuano Headquarters
October 18th, 2017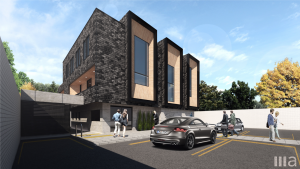 These improvements account for about 450 million pesos
Fisheries Promotion Institute, led by its Executive Director, Leonardo Nuñez, has been implementing a series of institutional changes among which stand out, the creation of new headquarters, laboratories implementation and infrastructure improvement of some Zonal Bases. The project is run by IFOP Administration and Finance Division led by Pamela Denmark.
Leonardo Nuñez explained "the work in Talcahuano is part of an investment plan of 450 million pesos, which considers the intervention of the current building located in Colon No. 3656 Talcahuano. It has an estimated execution time of 330 days and is expected to end by the middle of 2018.
The magnitude and importance of the work relies in growth and strengthening of its own activities, generating also a space that will enhance regional presence.
Roxana Urrutia, Infrastructure Manager explained the new building changes and advances "in the context of an infrastructure plan development at the national level of the Institute of Fisheries Promotion, at the end of July 2017 has begun the construction contract of improvement of "Expansion and Remodeling IFOP Offices Building, Talcahuano" project. The project was awarded to Soc. Constructora and Inversiones Soil Ltda.
Its main objective is to contribute to infrastructure improvement oriented to the need to modernize laboratories facilities and operation areas, providing well-equipped spaces for research directly related to the activities of pelagic resources research, antioxidant certification and toxin detection marinas ".
Workshop I made change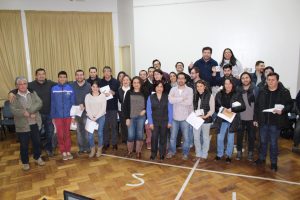 This redesign, by its size and relevance has meant that all Base staff had to be moved to new dependencies for a transitional period, while completing the remodeling work
This process of transfers, due to its complexity, is being accompanied by a program called "I made change", which has been designed by Grupo TPChile and is composed of several workshops that try to help to tolerate in an optimal way the difficulties that implies a change of these characteristics.
Javier González IFOP psychologist referred to I made Change workshop´s objective referring that it is to support people's change adaptation at Talcahuano Base due to the mobilization of the building in which they habitually work towards another building in which they are will locate until completion of remodeling work. There was a mobilization between the building that has always been used to a nearby one that has a provisional character, while the first one is remodeled to make it more suitable to the needs of the people and the challenges of the Institute.
Understanding that any successful change process is composed of attitudes, beliefs and behaviors, we believe it is important to support this infrastructure process, enhancing communication, teamwork, collaborative work and openness to change for all of us who conform IFOP. the people of Talcahuano are pioneers in this challenge. Based on this need, the project "Change is what I do" is set up, an annual project that consists of awareness activities regarding the nature of the change of base and the behaviors that facilitate the adaptation to change, through three 8 hours workshops and a final closing activity, close to the final date of the remodeling of the Base. "