IFOP and Universidad Arturo Prat organize Ibero-American Symposium on Reproductive Ecology, Recruitment and Fisheries
August 17th, 2018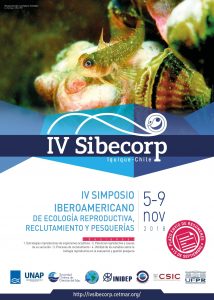 It will be held in Iquique Chile, between November 5th and 9th
The Faculty of Renewable Natural Resources of Universidad Arturo Prat and Fisheries Development Institute have the honor of organizing and inviting everyone to the IV Ibero-American Symposium on Reproductive Ecology, Recruitment and Fisheries – SIBECORP, with the support of the Ibero-American Research Network Pesquera (INVIPESCA).
The event responds to Latin American researchers concern to promote collaboration among their countries, due to marine and continental fisheries importance as a vital economic resource for Latin America, Spain and Portugal. The main objective is to identify and define common interest research lines and encourage joint projects that promote cooperation among countries in the field of fisheries research.
IV SIBECORP main objective is to focus on reproductive ecology of exploited species study about influence of reproductive populations potential in early stages of life and population dynamics and external factors study that regulate all these variables The fourth SIBECORP edition will devote a special section to the application of these aspects in small pelagic species evaluation.
More details about this symposium http://ivsibecorp.cetmar.org/index.php