A collabortion agreement is signed by IFOP and Valparaíso Crew School
January 4th, 2023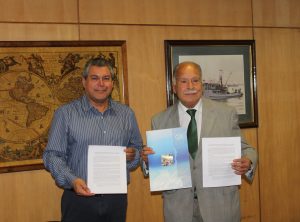 Students will be able to carry out their professional internship on Abate Molina scientific vessel.
On December 27th, in Valparaíso, a collaboration agreement was signed between Fisheries Development Institute (IFOP) and Valparaíso's Crew and Port School. Through which students of Crew members School's middle-level technical careers will be able to carry out their practical internships; Crew members of merchant and special ships, administration mention logistics and port operation, in IFOP considered the most prestigious institution dedicated to fishing and aquaculture research.
The document was signed by Gonzalo Pereira Puchy, IFOP Executive Director and by Luis Atineos Lazarte, Valparaíso's Crew and Port School Director. The ceremony was held at IFOP Valparaíso, with the participation of workers from both institutions and students.
Gonzalo Pereira, referred to the agreement " signing this agreement is very important because our institution currently manages a research vessel and has a 15 people crew, which performs operation of vessel operational, next year on this date we will have a new research ship, which will also be in charge of IFOP, then have an agreement with Valparaiso's Crew School, which allows us to access young people in the areas that are required in the operation of these ships and thus be able to count on with these professionals and the crew school to have a space in which young people can carry out their professional practical internship and have the opportunity of acquiring real practical knowledge of what they are learning in the classrooms".
The agreement also establishes that IFOP undertakes through its Marine Operations Department to hold exhibitions and guided tours for students, thus disseminating the work carried out at IFOP, particularly by this Department.
IFOP, in the event of new job opportunities arising in the Department, will communicate these to the Crew School and will prioritize the hiring of students who completed their internship with a good performance evaluation in the Marine Operations Department , for positions that are relevant with their training and motivation.
The Crew School, is committed to facilitating the dissemination of internship opportunities offered by the Marine Operations Department, within its Institution, as well as to disseminate IFOP's institutional work regarding the Institutional Mission-Vision . And to disseminate among its alumni Fisheries Development Institute Marine Operations Department available job opportunities.
The Crew School will provide its facilities to IFOP (Auditorium and/or classrooms) for the development of training and/or dissemination activities, subject to their availability.
Patricio Herrera, IFOP Marine Operations Department's head , added "it is important that new generations get to see in the maritime sector a concrete possibility of professional development. At the Crew School we find young people who are interested in navigation and the scientific work that we do on board the B/C Abate Molina. For them we will have, at first, room for their professional practice needs and later, certain possibilities of employment alternatives".
Javier González in charge of IFOP Training added "this is an excellent opportunity for collaboration between two institutions with a long history and common objectives. In addition to allowing us to install scientific curiosity in the students of the Crew School, through the talks that will be given and the work that they will be able to observe. In terms of employability, it is also a good instance, since it allows students to project themselves as part of the crew of a scientific ship, aspire to develop in IFOP and for our part it allows us to choose to have the incorporation of new people who have the support of the excellent academic, technical and value training provided by the Crew School.
Press related links: