Crew School Students visit Abate Molina scientific vessel
January 10th, 2023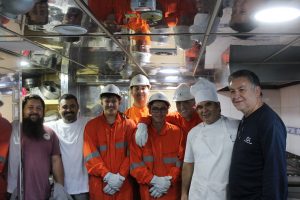 On December 28th a group of Crew School students accompanied by a teacher, visited Fisheries Development Institute's Abate Molina scientific vessel.
On the occasion, the students and the teacher were received by Gonzalo Pereira Puchy IFOP Executive Director, boat's captain , crew and researchers who explained them how each ship's equipment work.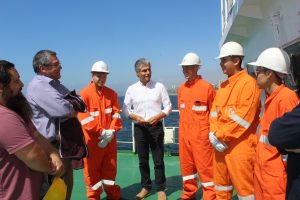 The Abate's tour was very interesting and entertaining for the students since, in a didactic way, the professionals answered all the questions asked by the youngsters. They also got to know laboratories, command bridge, cabins, kitchen and they had a live on field experience in how to work on a scientific ship.
Gonzalo Pereira, IFOP Executive Director explained "for us it is very important to receive these young people who are so motivated to work on the ship today, we signed an agreement with the Crew School, through which the students will be able to carry out their internships in this ship and in the next research ships that we have"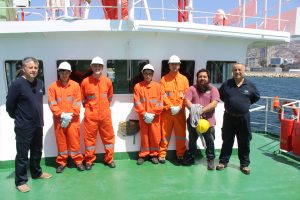 Cesar Galleguillos, added "as a science professor at Valparaíso Crew and Port School, I feel that our institution and its students approach to scientific research world carried out by IFOP through its vessel, allows us to approach and expand our maritime territory knowledge. In relation to our visit, made to Abate Molina boat, I feel that it is an opportunity where our students can demonstrate skills acquired within their training process, as well as being an instance to acquire new knowledge in relation to IFOP's research, development and sampling .
Press related links