IFOP carries out a new manual on macroalgae crops
December 30th, 2019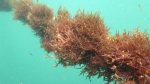 It is free and serves as educational material
The Fisheries Development Institute (IFOP) Repopulation and Cultivation Department has published the"Cultivation of macroalgae: Diversification of Small-scale Aquaculture in Chile" manual . The compendium is part of the results of the "Integral Program of Algae Aquaculture Development for Artisanal Fishermen" -stage 2, executed since 2018 in the Los Lagos region and in the Coquimbo region.
The state of the art of the cultivation of fourteen species of native macroalgae with potential to be cultivated in Small-scale Aquaculture in Chile (APE) by Artisanal Fishermen Organizations (OPA) and small fish farmers is presented. The macroalgae species were selected considering the level of progress in research and development in laboratory culture techniques, hatchery and suspended or bottom culture systems at sea.
This information represents a valuable contribution that aims to improve the knowledge of those who wish to diversify their productive activity by incorporating macroalgae into their crops.
The texts, photos and illustrations show the experiences carried out in different research projects executed by the IFOP and financed by the State of Chile.
The manual is available at the following link: