IFOP is part of stock improvement and restockinginternational symposium
December 30th, 2019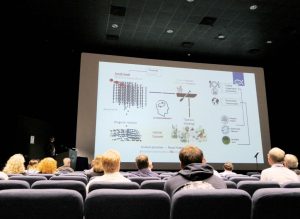 With two presentations entitled "Small-scale aquaculture, emergent habitats and opportunities for stocking of targeted species" and "Restocking in Chile: identifying research gaps and implementation challenges for an ecosystemic approach" Department of Repopulation and Cultivation of the Aquaculture Division researcher , Luis Henríquez, participated in the sixth version of the International Stock Enhancement and Sea Ranching Symposium (ISSESR 2019), held in the city of Sarasota, Florida (USA).
ISSESR corresponds to one of the most important international symposiums on stock improvement and restocking, which hosts a small group of selected researchers, mainly from the northern hemisphere and Asia, in this fisheries research area. Symposium's work high quality included the most advanced stock improvement techniques, aquaculture-assisted repopulation, habitat restoration, selection of optimal sites, genetic management, legislation and coastal socio-ecology within a marine communities comprehensive ecosystem management framework.
This symposium seventh version will take place in Chile, during November 2023, it will be organized by Fisheries Development Institute through the Repopulation and Cultivation Department. Of course, it is expected to have national and international scientific community massive participation in an unprecedented event in applied marine sciences of our country, which appears as a reference in the area of fishing and aquaculture in the international community.
Luis A. Henríquez-Antipa He is a Doctor in Earth Sciences and a Senior Researcher in the Department of Restocking and Cultivation in Puerto Montt.
His research interests have been focused on small-scale co-cultivation of algae in invertebrates and their socio-ecological interactions.