IFOP Putemún-Castro, carries out an interactive field activity in in Quehui Rural School
November 21st, 2022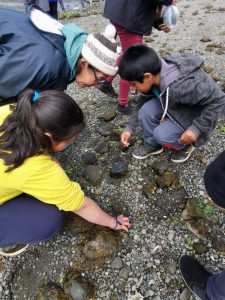 On Tuesday, November 8th, researchers from the "Larval Monitoring and Mutilid Seed Capture Program", Dr. Cristián Segura, Marina Oyarzún Vera, and Alejandra Montaner Velázquez from "Aquaculture Environmental Performance research", both groups associated with IFOP's Environment Department carried out a local diffusion and dissemination activity with 5th to 8th grade students from Los Angeles de Quehui Rural School .
On that occasion, boys, girls and teachers participated in an interactive and practical workshop on environment, microalgae and filter-feeding molluscs that IFOP professionals took to the school facilities. In the opportunity, instances of understanding of natural processes and reports of experiences of the students with their environment were generated.
According to Marina Oyarzún, "a dynamic was developed that allowed students to connect with the coastline and to recognize organisms from this didactic material wich belongs to their educational program planning. Which is always very helpful when learning is linked to positive experiences."
Cristian Segura added "these instances allow students to generate identity with their coastal environment, strengthening behaviors to care for the environment, as well as strengthening their knowledge in the face of the boom processes of harmful algae and bioaccumulation in bivalve mollusks,"
Alejandra Montaner researcher established that "the importance of bringing children closer to science with an environmental focus, making measurements such as pH, allows them to understand processes that occur behind ocean acidification and the impacts that these can have on the flora and fauna that surrounds them"
The city council Castro Corporation thanked Fisheries Developm ent Institute for promoting marine world interest among boys and girls and strengthening environmental education through research on coastal marine systems.
https://www.facebook.com/1125489647484206/posts/pfbid0tyMZLRY6cMfRpf2R7bkgMDUtdxh9Rtj557p2NybsHH6VggABRTivji2uXWPNJ5H6l/?sfnsn=mo