IFOP Director Gonzalo Pereira attended "keel laying" of new scientific research vessel in Chile
November 18th, 2022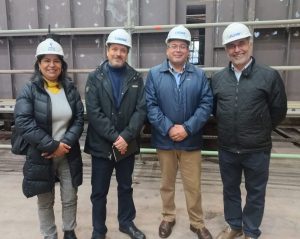 The 30 meters long, ship, will be owned by the State of Chile, destined for Undersecretary of Fisheries and Aquaculture and operated by Fisheries Development Institute.
On Tuesday, November 15th, Keel Laying Milestone Ceremony of Fisheries and Oceanographic Research Vessel currently under construction was held at ASENAV Shipyards in Valdivia.
, Carla Peña IFOP's Executive Director , Gonzalo Pereira; Los Ríos region Presidential delegate; Luis Cuvertino Regional Governor,; Economy, Development and Tourism Seremi, Alejandra Vásquez; Fisheries zonal director , Daniela Cajas; maritime authorities and workers and ASENAV shipyards executives , led by its general manager, Heinz Pearce.
The vessel, whose delivery is scheduled for the first half of 2024, will collect biological samples of fish or crustaceans using midwater and bottom trawls (demersal crustaceans) and plankton. It will record meteorological data, hydrographic conditions as well as oceanographic processes and ocean circulation.
Likewise, it will take water samples through the operation of the rosette that will allow biological and chemical variables measurement. Among variables to be measured are temperature, salinity, density, dissolved oxygen, chlorophyll and nutrients. At the same time, acoustic surveys will be carried out, the ship will be very modern since it will have the latest technology.
press related links: