JICA Japan representatives visit Abate Molina Scientific Vessel
January 3rd, 2023
JICA is the Japan International Cooperation Agency
Shoji Ozawa Resident Representative of JICA Chile and Toshimi Kobayashi, Deputy Resident Representative of JICA Chile, visited Abate Molina scientific vessel. The activity was led by (IFOP) Fisheries Development Institute Executive Director Gonzalo Pereira, on the occasion, a tour of the ship, the laboratories was made and the work and advances in research topics that are leaded by Abate Molina's research.
Daniela Díaz Guizado, Executive Directorate for Cooperation and International Affairs assistant referred to the visit "for IFOP it is essential to generate new strategic alliances, as well as to strengthen existing ones with agencies such as JICA, for the development of joint initiatives that allow us to strengthen and expand the lines of research of our institution".
Leonardo Guzmán, head of the Aquaculture Division, explained "the objective of the activity is to strengthen relations between JICA and IFOP, today we are working on the MACH project, but historically there has been a very good relationship with Japan. In fact, the Abate Molina is a donation from Japan's Government built in the legendary MIHO shipyards of Japan, it arrived in Chile on March 3, 1991".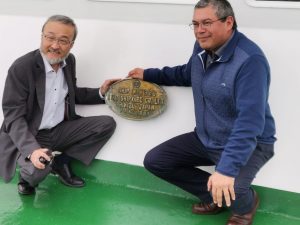 The Algae Monitoring project in Chile (MACH) arises as a Chilean-Japanese collaboration, financed with resources from Research in Science and Technology for Sustainable Development Associative Program (SATREPS) from Japanese Government, through its Cooperation Agencies International (JICA) and the Agency for Science and Technology (JST).
Press related links: