IFOP at Marine Sciences Congress
June 4th, 2019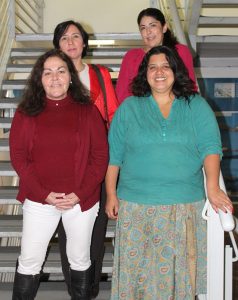 Between May 27th and 31rd , XXXIX Marine Sciences Congress is organized by Arturo Prat University Natural Renewable Resources School , this year the theme is " Bodiversity recovery and protection in a global change scenario"
Summaries of IFOP presentations
Pilot experience for the monitoring of "huiros" brown algae fishery in Chilean northern zone. Pablo Araya
"Huiros" fishery are the main representatives of benthic landings, but there is no associated indicators monitoring for their management. This work objective was to contribute to its construction through a pilot experience. Results of the developed work are delivered. in five monitoring sites in the Atacama and Coquimbo regions, both on the beach and in industry, It is verified that it is possible to establish a monitoring, which must be expanded gradually and gradually over time. This type of work requires the commitment and participation of the actors in the activity.
"Fishing information generation: participatory work among researchers and artisanal fishermen" .Autors: Andrés Olguín and Paulo Mora
The presentation is based on describing collaborative work between Fisheries Development Institute (IFOP) and Ancud Trawl Committee, in terms that fishermen themselves, through fishing logs implementation, collect information during their daily extractive activity. Among the most relevant results, it is established that information compiled in logs provides valuable background information for fishery correct management in the area and that users are able to participate in the generation of relevant information of their target resource without being questioned.
"First plan for discards reduction in demersal crustacean fishery in Chile: implemented measures review " Victoria Escobar
The presentation shows discard research program in demersal crustacean trawl fisheries development (nylon shrimp, prawns). In addition, the importance of this program results that have allowed on the one hand to identify discard composition, to know the causes of discarding and on the other hand the generation of base information for the creation of a discard mitigation plan in these fisheries developed by the Subpesca.
Exploitation strategies economical effects in fisheries . Study Case: demersal crustaceas in Chile. Camilo Torres
Through bioeconomic modeling, strategies proposed exploitation effect for demersal crustacean fishery in Chile was studied. This analysis allowed to integrate biological and fishery aspects with fishery social and economic areas in order to evaluate effects that administration oriented measures could generate to maintain biomass at the level of Maximum Sustained Performance (MRS), in relevant indicators for the sector such as the net benefit, the equivalent employment and the annual bonus allowance.
"Gill net selectivity factor used in common hake (Merluccius gayi gayi)artisanal fishery in Chile 's central zone ", Jorge Sateler work done in conjunction with Dante Queirolo from PUCV.
The gillnet is the main fishing gear used in artisanal hake fishery and its different configurations play a fundamental role in the size structure of the catches. Taking into account data from the 2001-2015 fishery, compiled by the Monitoring program, selectivity factor that determines the retention probability for the size of the different mesh sizes used in this period and which could have been the most important was estimated. The most efficient.
Karen Belmar cuttlefish catches variation (Dosidicus gigas) from San Antonio and Talcahuano fleets between 2015-2018
Cuttlefish has been relevant in the fishing framework of the country, before the decline of other fisheries, however, there has been a change in the fishing operation. The objective of the work was to determinate if there are biological-fishery indicators variations in cuttlefish catches of artisanal and industrial fleets between 2015 and 2018, in Valparaíso and Biobío Regions. Preliminary results show significant variations, in terms of fishing effort in both fleets and also a change in structure size, evidencing a decrease in the mantle length of the cuttlefish caught.
Site is in fact important: Cultivation Experiences macroalgase cultivation i two Chiloe locations.
Sebastián Cook, Luis Henríquez, Francisco Galleguillos, Pablo Leal, Sandra Saavedra & Francisco Cárcamo
Macroalgae aquaculture in Chile has a tradition based on vegetative monocultures of Agarophyton chilensis, whose destiny is the production of raw material of low and unstable commercial value, which have been introduced throughout the country. The selection of aquaculture site, poorly studied in Chile, can improve the yield, quality, management and administration of crops, as well as, determine special characteristics to enhance production. This study evaluates two crops of Chondracanthus chamisoii and Macrocystis pyrifera maintained for two years. production cycles in Chiloé. Nutrients, epibionts and production indicators showed differences that would allow defining inherent characteristics of the cultivation site
Biological physical interaction processes at Chiloé inland sea: Anthropic activities and eutrophication as determinants of primary productivity Dr. Pablo Rojas
It explains causes and consequences caused (on water quality and condition of associated benthic system) a notable increase in nutrients contributions of (eutrophication) from productive activities that take place in the Inland Sea of Chiloé.
To address this problem, it was necessary to incorporate oceanographic criteria, as well as quantitative modeling tools (hydrodynamics and biogeochemistry) to evaluate the impact of the incorporation of organic matter and metabolic waste from the productive activities that take place in the aquatic environment. zone.