IFOP trains its scientific observers on birds and marine mammals identifying techniques
November 14th, 2017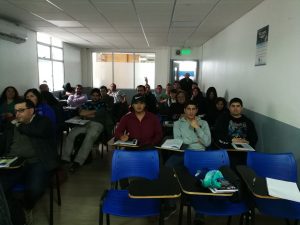 During October, IFOP (Fisheries Development Institute) carried out an extensive training for all of its scientific observers on identification of marine mammals and birds techniques, which included ten workshops (five about marine birds and five about marine mammals) at Iquique, San Antonio, Talcahuano, Puerto Montt and Punta Arenas bases.
Javier González, psychologist in charge of IFOP training, referred to the objectives of the course, which were "to promote participant's knowledge about identification techniques on different species of birds and marine mammals present in the country and that interact with fisheries developed in different areas, providing the institution's scientific observers with tools and techniques to improve their daily work, as well as new sampling methods associated with these particular topics. As a complement different regulations related to these matters were also addressed . "
Javier added that "each of the activities are within the accreditation processes of Scientific Observers Regulation, which are added to the improvements made to know and correctly identify used gear and fishing gear, sampling and collection techniques. Either of biological-fishing data aboard fishing vessels, ports or processing plants carried out in previous opportunities ".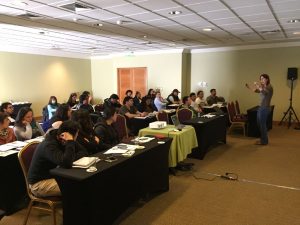 The courses were conducted by outstanding national researchers in these fields, being led in this case by Alejandro Simeone Dr. in Zoology (Andrés Bello University professor) activities related to Sea Birds were lead by Dr. Maritza Sepúlveda (University of Valparaíso Professor), MsC. Macarena Santos and Dr. María José Pérez in the case of topics related to marine mammals.
Erick Gaete Head of the Sampling Management Department referred to the importance of these courses for observers, noting that "this is an important milestone in the 2018 accreditation process of our Scientific Observers, considering the fact that for the first time it is practically simultaneously carried out in 5 national bases, representing an institutional effort of more than 5,500 hours of our personnel training. "
In this sense, Gaete indicated that "currently the world tendency aims to recognize scientific observation programs importance for making well-founded decisions to favor sustainability of various fisheries that are developed in the world, because collected information constitutes a transcendental contribution for management decision making. In this way, and recognizing the role they play, Chilean regulations have incorporated changes and demands that seek to professionalize observers work and ensure that their work is carried out in a safe environment, free of interference and with modern tools, so that the quality and representativeness of the information collected is indisputable, this training activity being in particular an example of where the institution has set its sights in terms of continuous processes improvement in taking and registering carried out data ".