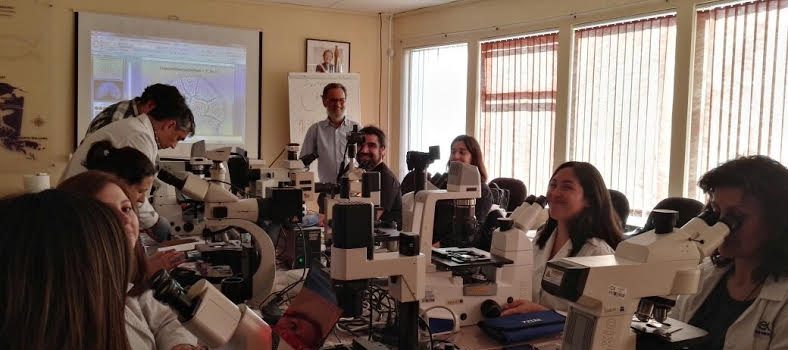 Spanish expert offers Molecular Biology in Noxious Microalgae workshop in IFOP
November 15th, 2017

Between October 16th and 26rd , the Theoretical-Practical Molecular Biology in Noxious Microalgae Workshop was conducted at IFOP Headquarters in Punta Arenas, dictated by Dr. Francisco Rodríguez from the Spanish Oceanography Institute (IEO) from Vigo, Spain.
The workshop had IFOP's researchers presence in Puerto Montt, researchers that belong to the recently created Harmful Algal Research Center (CREAN), and the Hydrobiological Health Department based in the same city, plus researchers and technicians from Punta Arenas. who work with this type of organisms. All of them belong to the Aquaculture Research Division, based in Puerto Montt.
Gemita Pizarro, researcher explained "the theme of this workshop responded to the need of strengthening regional institutional work teams both in knowledge and theoretical-practical updating of Molecular Biology techniques, applied as a routine in first world countries, and to achieve its implementation in local laboratories.
During the next months two other internal training workshops are scheduled to be held with two other IEO experts: Update on the Taxonomy of Harmful Microalgae dictated by Dr. Santiago Fraga, between November 6 and 17; Ecology of the microalgae of the genus Dinophysis and the unconventional cultivation of their species, dictated by Dr. Beatriz Reguera, between November 27 and December 7, both in Punta Arenas.
The first aims at updating biology knowledge, nomenclature, distribution, observation and cultivation of harmful microalgae, especially those that are emerging, which in the last two years have caused a great mortality of fish and whales in the south. Austral of Chile. The second deals with the current state of Dinophysis species in relation to their produced toxins, distribution and the challenge of establishing local species cultivation as they require prey feeding and exceptional care that are far from the conventional crops commonly required by the rest of the microalgae ".
These workshops are part of the training program of high professional level of IFOP yearly research teams, and this year it accounted CORFO fundings. The workshops held in Punta Arenas are an initiative of the institutional executive management for this year, considering research centers strengthening in extreme regions. Regional workshop development are signs of the institutional concern to respond to the requirements derived from the different realities of our country.