IFOP supporting discard mitigation plans generation in Aysén's artisanal fisheries.
August 11th, 2017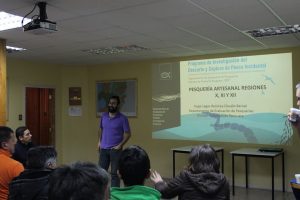 In the cities of Aysén and Puerto Cisnes, XI Region, between August 8th and 10th The Undersecretariat of Fisheries and Aquaculture held workshops for the development of discard mitigation plans with relevant players in local artisanal fishing.
IFOP researchers Hugo Lagos and Nicolás Duamante presented the results of the discard project, with which they worked together with local fishermen to define main actions to reduce discard.
"Although the discards registered in this fishery are not high, fishermen were able to make concrete contributions with the information provided by the project and were very proactive proposing measures that would further reduce them," said Researcher Hugo Lagos.
The project of discarding and incidental fishing developed by IFOP began its process of data collection in the southern austral fisheries in the year 2015 with the objective of identifying the species and quantities that are discarded, to then establish the causes and propose – in a joint work with fishermen – measures to reduce them. In this first stage, the industrial fisheries of hake, fin hake and cod are considered along with the artisanal and industrial fleets of southern hake and golden conger, from the X to the XII Regions.