Chilean Pavilion is inaugurated by the Government at International Congress of Marine Protected Areas
September 7th, 2017
The fourth version of the IMPAC – by its English acronym – takes place in Coquimbo between September 4 and 8
COQUIMBO. Wednesday, September 6, 2017.- In the framework of IMPAC 4-4th International Congress of Marine Protected Areas – authorities of Subpesca, Sernapesca, Armada and IFOP headed by the Minister of the Environment, Marcelo Mena, inaugurated the Chilean Pavilion.
At the time, Subsecretariat of Fisheries and Aquaculture, Pablo Berazaluce, said: "The conservation of the ocean is a task for everyone and as Subpesca we have acquired this commitment also working with sector actors and for the benefit of the fishing and aquaculture area."
"It is vital to establish a sustainable development of the fishing sector and that is a task that we permanently promote" the authority emphasized.
Meanwhile, José Miguel Burgos, Sernapesca National Director, highlighted the recent opening of an office in Punta de Choros, and that two other offices will be opened in the marine reserves of Pullinque and Putemún (Chiloé, Los Lagos Region) to increase the presence of Sernapesca in these areas.
At the same time, Gabriel Yany IFOP board president added: "The participation of the Institute of Fisheries Promotion (IFOP) in IMPAC 4 has been planned in previous IMPAC … In this sense, IFOP with its presence here it is aligned with our country respect to these matters ".
IMPAC fourth version – by its English acronym – takes place in Coquimbo between September 4 and 8.
Signing Memorandum of Cooperation between the United States and Chile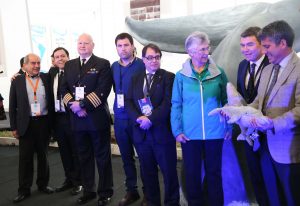 During the international event, the Memorandum of Understanding on cooperation for the conservation and management of terrestrial and marine protected areas signed by the United States through the National Service of National Parks, National Oceans and Chile through the Ministry of the Environment, Conaf and Subpesca was prolongated.
The cooperation activities carried out under this Memorandum consist of the exchange of information and technical assistance related to the management of terrestrial and marine protected areas.
In this regard, Subsecretariat Berazaluce said: "The extension of this memorandum is remarkable, because it reaffirms the extensive history of cooperation that our country has with the United States in the area of protected area management."