Marine biology students visit IFOP facilities
November 29th, 2017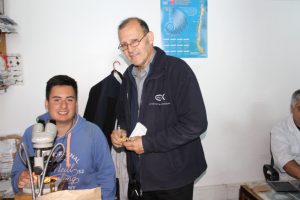 On Friday, November 24th, a group of 25 marine biology students from Universidad de Valparaíso, with Professor Fernando Balbontín, visited (IFOP) Fisheries Development Institute, to learn about IFOP's work, with IFOP researchers direct contact and also to visit the institution modern laboratories.
They were welcomed by Leonardo Núñez IFOP Executive Director, Mauricio Gálvez Head of Division and researchers Leonardo Caballero, Patricia Zárate and Christian Valero who explained and internalized the students about the  Institute's work.
Professor Balbontín explained "within their training  they have a  subject called Fish Biology and in that field I have highlighted IFOP important mission which fulfills fisheries management, for that reason, I bring them to the source itself to met our researchers, get to know our work here and opening future  possibilities for internship or thesis, I also have to highlight IFOP entire team good disposition always receiving us kindly answering all  the students doubts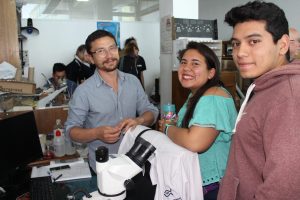 Researcher Christian Valero added "The presentation aimed familiarizing students with techniques involved in estimating species age subjected to extraction regimes and this piece of information importance in fisheries management. Therefore, our laboratory processes description gave them a perspective of their possible future professional development ".
Leonardo Caballero talk "consisted in a brief description of tasks and activities carried out by a researcher in Monitoring Project of Main Pelagic Fisheries of Central-South Zone of Chile, V-XI Regions, required by Institute for Fishing Development by Economy Undersecretariat and Fisheries and Aquaculture Undersecretariat, within our great program "Comprehensive advice for decision making in fisheries and aquaculture 2017 framework". It is related to how fishing and biological information is taken on board vessels and in landing centers, through systematic and representative survey of industrial and artisanal fleet operation  at V-XI Region. Dynamics monitoring of fishing fleet, current regulations and carrying out of research fishing in sardine or anchovy closure periods, which allows us to estimate recruitment or reproductive intensity magnitude and thereby advise Fishing Authority in management charge.
This tour shows the students that any professional related to marine sciences should have relevant technical knowledge, such as navigation, maritime terminology and general fishing gear knowledge, as well as strengthen some skills or competencies, such as integrity, professional ethics and empathy, to be able to dialogue with fishermen in their language and to better understand coastal community's needs, with which they will have to relate quite frequently in their professional lives. Finally, he points out that he had guided some theses and is available to guide other similar studies development  in their expertise.area. ​​
Dr. Patricia Zárate explained to future marine biologists IFOP work related to  sharks and sea turtles marking and the importance of caring for these species.
In age and growth laboratories  students had the possibility to see how to work in determining species age using  marine resources hard structures (otoliths)