INIDEP and IFOP Chile signed an agreement that promotes marine resources research and sustainable management in both countries
February 15th, 2021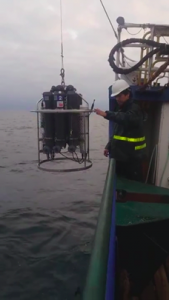 Fisheries Research and Development National Institute (INIDEP), Ministry of Agriculture Livestock and Fisheries decentralized body,, signed a new framework agreement for scientific-technical collaboration with Fisheries Development Institute (IFOP) Chile, which will promote opportunities to strengthen research and sustainable management of marine and coastal-marine resources in both countries.
INIDEP is the only institute in the country (Argentina) that comprehensively covers scientific, technological and economic aspects essential for national policy in the fishing field implementation and development. The mission and functions of this institution are to formulate, execute and control research projects in prospecting, evaluation and development of fisheries, aquaculture technologies, fishing gear, technological processes and in fishing economics, according to guidelines and priorities that In this sense, establish authority enforcement.
Fishing Development Institute (IFOP) Chile is a private law, non-profit corporation, whose mission is to develop and provide technical background and scientific bases for fisheries and aquaculture regulation, hydrobiological resources conservation and their ecosystems. It is the main advisory body of public fishing sector, developing studies which provide necessary scientific information for decisions to be adopted by the fishing sector regulatory body, the Undersecretariat of Fisheries and Aquaculture and of value for public policies production and evaluation.
In the document, INIDEP and IFOP share the mission of contributing to sustainable development of fisheries and aquaculture, and are aware of the importance of promoting and creating facilities for research and extension of fisheries and aquaculture, for mutual benefit. of the Argentine and Chilean institutions and societies.
Within budgetary limitations, with institutions articulation and collaboration, the capacity to develop joint projects that have as a priority axis studying to have technical and scientific tools for fisheries and aquaculture regulation and conservation of hydrobiological resources and their ecosystems will be enhanced. .
The organizations agreed to promote and strengthen research and community extension processes in the marine and marine-coastal areas of countries; to generate knowledge about marine resources and their environment for sustainable management and improve decision-making; to promote joint work in processes, phenomena and events of relevance to the ecosystems in which fisheries and aquaculture develop.
The document also raised the need to establish an information process, coordination and monitoring results of actions, programs or projects that are executed and to develop joint mechanisms that make preparation and publication of documents, books, magazines, brochures , studies or similar, possible using the information product of joint efforts.