For 42 days the fishing Development Institute will study mackerel
May 29th, 2017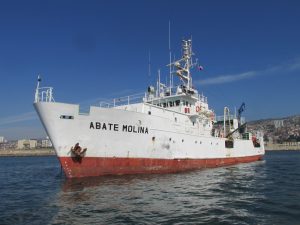 Two scientific boats will be used for this Abate Molina and Cabo de Hornos
A team of professionals from the Fisheries Development Institute (IFOP) embarked on May 24th  in the port of Valparaíso (Valparaiso Region) to quantify mackerel's biomass, between Pichidangui (32?) and las Guaitecas Islands (44?S) using the hydro acoustic method.
The ship AGS-61 "Cabo de Hornos" owned by the Chilean Navy and b/c "Abate Molina" from the Fisheries and Aquaculture Undersecretary, which is administered by the Fisheries Development Institute will be used for the execution of this study.
The project manager is José Córdova Fishing Engineer. The research cruise will have a total length of 42 days (Cabo de Hornos: 23 days and Abate Molina: 19 days)
The specific objectives of the research are:
To define the area of study of the project on the basis of auxiliary information.
To estimate the abundance (in number) and biomass (by weight) of the mackerel in the study area.
To estimate the composition of height, weight, age, and sex ratio of the stock of horse mackerel in the area and period of study.
Determining the composition of the main food items of the mackerel in the study area.
To determine the spatial and bathymetric horse mackerel situation and the distribution of zooplankton, with special emphasis on the major food items of horse mackerel, the study area and its relation to oceanographic conditions.
To determinate the bycatch and their relative importance in sets of identification.
Gathering information ecosystem from acoustic Cruisers in support of ecosystem-based fisheries management.
Identification of main groups of species or biological items present in the acoustic echograms collected during the period of study.