IFOP holds various activities for its workers for its 55th birthday
May 22nd, 2019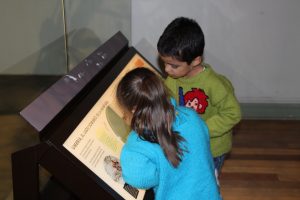 On May 26th, IFOP will be 55 years old, it was created in 1964 by Production Promotion Corporation, CORFO, and the National Fisheries Society, through a fisheries matters international technical assistance project between chilean Government, the United Nations Development Program, UNDP, and the United Nations Organization for Agriculture, FAO.
Currently Fisheries Development Institute of (IFOP), is Fisheries and Aquaculture Law scientific reference, it is a very important milestone for the institution, as it establishes its position as a national reference Institute of information that is required to make decisions about fishery resources management and aquiculture management. It is in charge of maintaining permanent advice to the Undersecretariat of Fisheries.
IFOP workers anniversary programmed activities
On Thursday, May 15th a visit to Valparaíso's Natural History Museum was held for IFOP workers childre. The tour included a welcome by Loredana Rosso the Museum's director and a visit to the 14 permanent museography halls. " Fifth region Biodiversity ",
Loredana Rosso Elorriaga, museum's director , explained "We are very happy as MHNV to work since several years ago on various IFOP initiatives. It is a serious institution and works for the environment,care contributing every single day in the region development, we also prepared a fun activity for families working at IFOP, who will know our facilities, which will awaken adults and children curiosity, touring different Museum rooms. Always our institutions workers should be our work central axis and now we will deliver part of our knowledge to the great IFOP family "
Maira Cortés IFOP Welfare and Quality of Life Analyst referred to the other activities "During May we are celebrating so we have prepared the following entertainments for our IFOP workers
Your B side; On May 23rd a ifopino entrepreneurship fair will be held. 8 Valparaiso's workers will show their projects in the central hall of the company. This is to know the side that many of us do not know about our colleagues.
Did you know?; Its purpose is to make our colleagues findings in their careers at IFOP noticeable and that often are unknown by other Ifopinos.
Photographic Exposition: at IFOP there are a lot of hidde talets , there are some workers that ejoy photography, so we will hold a photography expositio related to IFOR work. I this way we will be able to show our coworkers talent.
IFOP in 100 words; Like the famous contest, we will launch a literary activity so that those who want to tell a story related to their work within the institute can make it known in a story or literary story format, in order to create the first digital book with this theme " .