IFOP organizes Iformative workshops with schoolchildren in Talcahuano, Arauco and Coquimbo
May 22nd, 2019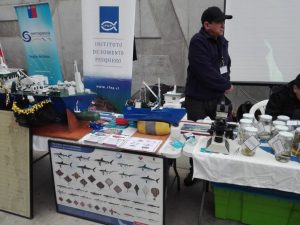 On Tuesday May 7th, at Arauco Cultural Center , the II Scientific Fair for Oceans Sustainability was held, it was organized by Filidor Gaete Monsalve Technical High School INCAR, Universidad de Concepción, DAEM Arauco and Arauco's Municipality .
The activity's objective is to share knowledge about the oceans with students and the general public to raise awareness about our resources and the care of the oceans. Various institutions and organizations participated in it.
IFOP in its stand showed various fishing resources, answered questions about the ocean's care , IFOP work and our role as advisors to the Fisheries Undersecretariat
Jorge Cornejo, IFOP's Talcahuano chief of base, said "From IFOP, Cristian Villouta, Hector Pastor, Miguel Vega, Daniel Veroiza and Ariel Pinto assisted. They were in charge of delivering the information to the visitors about IFOP scientific observers role and to try to educate attendees about not throwing garbage into the sea because of the irreparable damage that this causes. The participation of the Institute was very well received and we hope to continue participating in more activities in the future. "
Cornejo added "The informative activities are permanently carried out in IFOP, now for the Institutional Anniversary Month, which coincides with the month of the sea, the Espiritu Santo School was visited, where approximately 150 kindergarten and pre-kindergarten children listened to Scientific Observer presentations. on marine resources, incidental capture and marine pollution, all adapted for their age. In addition, marine organisms were shown, a drop of puddle of stagnant water through a microscope and dissections of horse mackerel, mackerel, sardines and anchovetas were made "
On May 14th , 3 Coquimbo base IFOP's Scientific Observers, Alberto Olivares, Simón Zepeda and Alejandra Valencia attended the "Lucila Godoy Alcayaga school", to support the environmental protection project (of the school) "conscious consumption and reuse of grey waters". In the activity the students were explained what are IFOP functions with posters, calendars and different fsamples (some of them could manipulate them).
IFOP scientific observers , showed the environmental damage of throwing garbage to the sea and different images of the ravages that plastics and microplastics provoke in marine organisms.
The Lucila Godoy Alcayaga school, organized a group with San Rafael School,Colegio Republica de Grecia of Coquimbo and José Manuel Balmaceda School of La Serena to be part of the pioneers in conscious water consumption.