IFOP celebrates its 55th anniversary in a special Fisheries Commission session
May 22nd, 2019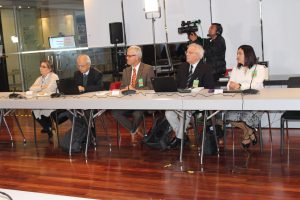 A team of workers of Fisheries Development Institute, led by the institution's executive director Luis Parot Donoso, Maritime Interests Comission, Upper Chamber Fisheries and Aquiculture Committee atteded to offer senators a report on national fisheries current state. The session was held at the National Congress library, with fisheries and aquaculture undersecretary Eduardo Riquelme's presence.
IFOP develops comprehensive advice for decision making in Fisheries and Aquaculture and research projects on sustainable exploitation strategies status and evaluation, commercial interest resources total allowable quotas estimation, benthic resource management areas evaluation and monitoring, hydrobiological health programs, environment, repopulation and crops and an aquaculture and fishing knowledge node with emphasis on digital preservation, knowledge access and visibility. Thanks to IFOP's work the State has necessary information to manage and regulate resources capture, to establish an integrated fisheries management, to deploy a management model and technical assistance, to develop aquaculture and sustainable fishing, and safeguard documentary scientific heritage.
Parot explained "We requested the fishing commission this special session for IFOP's 55th Years celebration, therefore, it is an acknowledgment to its trajectory to the importance, that the Law itself grants to the Institute as the State permanent adviser in fisheries administration. Institutional issues were discussed, an exposition about what each divisions does, and a relevant vision of the importance and transcendence of actions carried out by the Institute.
Valparaíso's Senator Kenneth Pugh, added "A big greeting to Fisheries Promotion Institute in its 55 years bringing information that allows us to understand and take care of our national fisheries from the knowledge, with its research capacity, with its boats, with its people, with its processes and with all its scientists IFOP has been a national reference to be able to have a first level public policy, that is why we wanted to leave on Wednesday May 15 in a special senate session the fishing commission to receive IFOP's report about Chilean fisheries current status.
This document is fundamental to understand and make decisions that benefit all chilean citizens. Today we want to recognize in all men and women who work at IFOP that selfless sacrifice to deliver the best quality of information which allows public policies development practical and real knowledge for IFOP innovation people that has always been marking that, year after year, congratulations to all of you guys"