ISO 9001: 2015 TECHNICAL TRAINING
May 2nd, 2017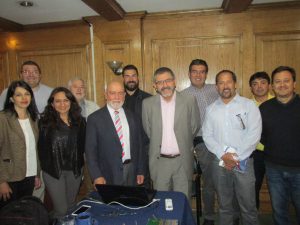 On April 5 and 6, Fishing Development Institute (IFOP) carried out a technical training for workers conforming of the quality management system, which was taught by Oscar Guzman, the aim of the training was to understand and apply ISO quality management standard 9001: 2015
Guzman explained "the need for IFOP of having a quality management system (QMS) for achieving excellence in the management of data, it is a Mandatory requirement for scientific observers (D.S. 308 2005) that emanated from the General Fishing and Aquaculture Law, in its title III" of the administration of the system for scientific observers "(, Acápite d) indicates that" : "the institution that takes that responsibility should show proof of a certified management system, which ensures standardized and traceable procedures for collection, registration, transmission, validation and support of data and samples, in accordance with the protocols of scientific data in main national fisheries, for the last 5 years.
Therefore,it is mandatory for IFOP maintenance of data management systems according to ISO 9001 it is not optional if not obligatory".
In the conceptual framework of the standard ISO 9001:2015 it is meant to further implementation of a quality management system being introduced as a management system applicable to all areas of the organization. The focus of this new version of the ISO 9001 standard is oriented to:
Improving understanding of the needs and expectations of interested parties
Knowledge of the organizational context to ensure the sustainability of the SGC.
Apply a thinking processes based in risk.
Improving the intellectual capital of the organization.
Tune the processes of support with the operational processes.
Optimize the managerial group leadership.