By streaming: Wild fish sanitary situation evaluation and monitoring program results will be shown
November 25th, 2020
It is organized by IFOP's Aquaculture Research Division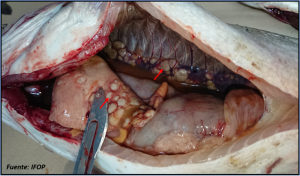 Tomorrow, Tuesday, November 24th, between 09:30 and 11:00, " 2019 Wild and Feral Fish Sanitary Situation in fresh and sea water evaluation and monitoring scientific research program closing workshop ", developed by (IFOP) Fisheries Development Institute Hydrobiological Health Department .
This research is part of IFOP permanent program which is executed as established by Fisheries and Aquaculture General Law (LGPA)agreement, through the Economy and Smaller Companies Undersecretariat, being its technical counterpart Fisheries and Aquaculture Undersecretariat (Subpesca).
The program's objective is to establish monitoring for wild and feral fish high-risk diseases (RAS) detection, present in freshwater, estuarine and seawater bodies, in those areas where fish productions have been established. salmonids at an industrial level, thus spanning from the La Araucanía Region to the Magallanes Region and the Chilean Antarctic. This considers both salmonid and non-salmonid species evaluation, with respect to exotic and endemic viral and bacterial pathogens detection in our country.
"The event, in particular, considers, in addition to results delivery research program present stage, presentations by Undersecretariat of Fisheries and Aquaculture (Subpesca) representatives, as well as Universidad de Concepción researchers, IFOP specified, adding that the workshop is open and will be held through the Meet platform. The event has limited capacity and requires prior registration.
Those interested should write to juancarlos.quintanilla@ifop.cl and / or paola.olmos@ifop.cl