Traveler shark goes from Chile to New Zealand
June 8th, 2017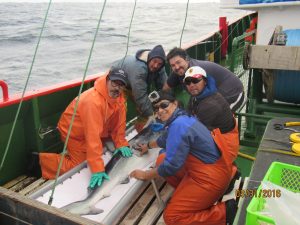 This shark is part of the highly migratory resources follow-up project – IFOP ecosystemic approach. He traveled approximately 8 thousand km navigating 415 days (1 year, 1 month and 19 days).
This blue shark marked on March 23, 2016 has generated great scientific excitement in Chile, the specimen appeared in New Zealand with a spaghetti marking, on may 12, 2017.
The shark was marked about 60 km of Pullally's Salinas coast in Valparaiso's region and appeared offshore in New Zealand, this mark is part of IFOP highly migratory organisms marking program. A program that exists since a few years ago being led by Dr. Patricia Zárate, who explains "these small marks "teach us a lot at the time of recapture, we can learn how much the recaptured animal has moved and sometimes we can also know its growth".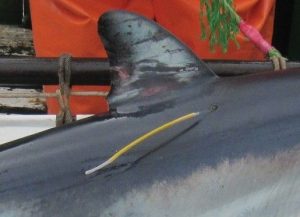 About this shark Dr.Zárate added "we knew that blue sharks are highly migratory animals, but previously found recaptures were only found in Chile so far, that's the reason why this finding pleasantly surprised us. This new information is very important for the scientific community, the enormous displacement capacity of these sharks have been demonstrated, this small shark has connected the two ends of the Pacific Ocean and it has highlighted to us the importance of collaboration and international scientific cooperation."
She told us how she learned that his shark that belongs to her project had been found so far away "I received an e-mail from Dr Malcolm Francis, fishing researcher and marine ecologist of New Zealand's NIWA (National Institute of Water and Atmospheric Research), who knew about the work that we carry out in Chile and warned me that a fisherman from New Zealand had captured one of our project marked sharks."
My first impression was not to believe it, I had to keep the news in secret for many hours waiting for the next message. This time, it was Warrick Lyon, NIWA fishing technician who sent me photos of the spaghetti marking, then we were able to see that mark reads IFOP-Chile, but we still needed to know when, where and under what circumstances they had marked this shark. Immediately, we looked for the mark's data in our database and I corroborated marking details it was performed last year in March, the shark was a female measuring 106 cm long, and we marked her on board of Vama II ship in the second marking cruise of pelagic sharks, this shark had grown 24 cm in a year to 50 days".


Wayne Eden, Te Tonga ship's captain from New Zealand, who captured the shark and warned of the n ° 464 marking presence told us "I can't believe that shark come so far". Warrick Lyon, NIWA fishing technician who participated as an intermediary to get data from this shark added "it is a long way for a small shark, I wonder about where he swam to get here".
Dr. Zárate said "these events are very rewarding and are those who drive us to continue working with greater motivation, this has demonstrated the importance of the studies that we have been doing and the marking, I am very proud and pleased with these results". And at the end, she added, "these massive markings are paying off, while more sharks and fish we mark, it is most likely that we will have more recaptures and thus further opportunities to increase our knowledge about the migratory patterns of these species". At the end she added that this was a team effort and thanked the staff of the scientific marking cruise team made up by researcher Edison Garcés and scientific observers Luis Díaz, Daniel Fuenzalida, Patricio Ojeda and Luis Pizarro, and also Vama II (Coquimbo)'s crew in particular its Captain Carlos Espinoza she thanked all the support during the expedition.