Socializing and improving technological tools for scientific information transfer to monitor Climatic Change and its effects on small-scale fisheries and aquaculture.
October 15th, 2022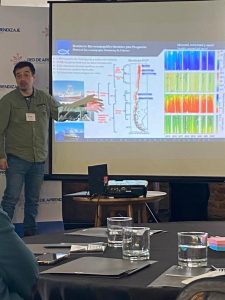 This successful workshop was organized by EDF at Palacio Astoreca Montealegre Hotel , located at Cerro Alegre 149, Valparaíso, on October 5th and 6th, 2022, Valparaíso, Chile.
Within the framework of Learning Network, Artisanal Fishing -Chile "The sea and fishing challenges facing climatic change (CC)" 8th Workshop. Dr. Jaime Letelier, Fishing Development Institute's Oceanography and Environment Department's head showed advances of "An ocean warning, prediction and observation system". This IFOP's developed system contributes to public data integration from Eastern South Pacific for CC monitoring in such a way as to deliver complementary scientific information to fishermen and sector decision makers. In addition, it favors a gap reduction in integrated environmental and biofisheries information access. On the other hand, IFOP CC Monitoring System contributes to and is an active part of a multinational system "Warning, Prediction and Observation System (S.A.P.O.) for fisheries resilient to climatic change in Humboldt Current Great Marine Ecosystem" that It is coordinated by the Environmental Defense Fund (EDF), and in which, in addition to IFOP, ​​Peru Sea Institute (IMARPE) and Ecuador's Aquaculture and Fisheries Research Public Institute.
The workshop was attended by representatives from Subpesca, Sernapesca, IFOP, CONAPACH, CONFEPACH, Artisanal Fishermen Organizations, Leaders, NGOs, Consultants, Academia and others, and gave the opportunity for potential users to give their opinion and generate a current system improvement instance projecting the new system utilities