Javiera San Martín, IFOP researcher, won a scholarship at Flanders Marine Institute
August 30th, 2023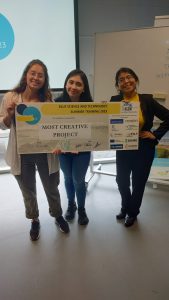 Javiera, won a scholarship at prestigious Flanders research institute, in Blue Science and Technology Summer Training program. There were two weeks in which she participated in an international Blue Science and Technology training.
The improvement addresses important (global) societal challenges from an interdisciplinary and multidisciplinary perspective. Academic conferences were held by different international institutions's best researchers, active in various Blue Economy fields, with seminars given by European politicians, as well as by private companies with established value in their sector, and practical experience. Topics such as sustainability, aquaculture, coastal protection, blue biotechnology, marine spatial planning, social and innovative entrepreneurship were discussed.
Javiera commented "my motivation to participate was to be able to acquire knowledge, visions and experience that can be transformed into a valuable contribution for sustainable development of marine sciences in Chile.
In total we were approximately 15 participants from this school, all from different countries. (Canada, Portugal, Germany, China, Ecuador, Belgium, Chile)
The organization that awards the scholarship is VLIZ (Flanders Marine Institute) under its charity "The Sea as a Good Cause"