IFOP researchers develop workshops with children from El Alerce community in Puerto Montt
March 2nd, 2021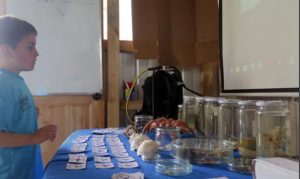 The activity is an interactive education alternative for children and young people to learn about the sea, it takes place on Saturdays between 2 and 6 pm.
A team of professionals from Puerto Montt Research & Aquaculture Division, consisting of Carlos Velásquez, Carolina Aguirre, Loreto López, Luis Henríquez, Patricio Mejías and Sebastián Cook, together with the group of professors Paulo Regulus Freire, which have been carrying out a series of actions to disseminate the marine sciences in "Alerce's Free School" for some time the activities take place on Saturdays, in the neighborhood headquarters located downtown Peñihues 1 from Alerce's community..
Among carried out actions we can mention presentations, practical experiments and thematic games to introduce children and young people, from Alerce's community, in the marine world, field and laboratory work, but especially in southern Chile's marine biodiversity mysteries and curiosities. These young researchers initiative has had the support of many Division colleagues, who facilitate in one way or another that the group can carry out the educational dynamics.
The activities offer an alternative to children between 5 and 13 years old to spend the afternoon learning about Patagonia's birds and marine invertebrates, learning about recycling, global climatic change effects on red tide. They have also been taught complex concepts such as waste management, ocean acidification and oceanography, as well as doing demonstration activities with autonomous diving equipment, magnifying glasses and microscopes, aquariums and fixed samples, emphasizing surrounding ocean's beauty and importance and their capacities to know and take care of it. IFOP researchers with children and teachers; have managed to coordinate coastal garbage collection activities in Lenca's beach (Carretera Austral), from where a large amount of garbage was removed
Finally, the Communication and Scientific Dissemination Institute's Group would like to thank Research and Aquaculture Division researchers and colleagues in particular: Carolina Barrientos, Cristina Ríos, Claudia Pérez, Claudio Díaz, Cristina Stuardo, Francisco Cárcamo, Gastón Vidal, Jaime Reyes, José Luis Pérez, Leonardo Guzmán, Macarena Herrera, Nicole Pesse, Rodrigo Cid and Sergio Elgueta, who have unselfishly collaborated to carry out the workshops whose ultimate goal is that today's children can know, learn, appreciate and in the futureto take care of our country marine environment.