Chilean researchers participate at The Bacterial Resistance International Conference.
July 19th, 2017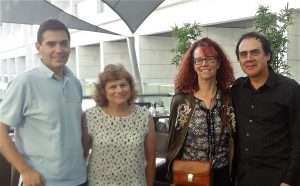 In the oportunity national researchers, Sergio Contreras from IFOP and Claudio Miranda from Universidad Católica del Norte, presented their work "Susceptibility to Florfenicol and Oxytetracycline of Piscirickettsia salmonis isolated from Chilean Salmon Farms".
The II International Conference of Antimicrobians Resistance was held in Lisboa city,– IC2AR 2017.
This event was held throughout four days and in a lectures format, oral expositions, micro talks and poster presentations, it brought together more than 200 researchers from 39 countries.
The main objective of IC2AR 2017 was to convene researchers working on the prevention, surveillance and control of antibiotic resistance in the areas of human health, animal health and food safety, considering an integrated approach in the approach to problems associated with this phenomenon.
Sergio Contreras, an IFOP researcher, noted that "the conference presented a cross-sectional view of the importance of research on the causes and effects of pathogen susceptibility to antimicrobial susceptibility in different ecosystems,and approaching the way various countries and organizations in the world arecurrently facing this problem.
During several sessions in three parallel halls, several topics were discussed, among others, aspects related to the epidemiology of resistance in animal and zoonotic pathogens, mobile elements containing resistance genes, antimicrobial resistance proteomics, emerging antimicrobial resistance mechanisms, control of resistant infections, antimicrobial resistance in animal pathogens and their exchange with humans, antimicrobial response surveillance, policies to stimulate development and new drugs and alternative strategies discovery to overcome the problem of antimicrobial resistance throughout the world".