Researcher Marcelo San Martín participates in "Sustainable fisheries and zero discard" virtual talk
July 31st, 2020
IFOP researcher, Marcelo San Martín, participated as a guest speaker in a virtual table called "Sustainable Fisheries and Zero Discard", organized by Uruguayan NGO OceanoSanos. This instance is part of a series of activities organized by that institution, aimed at creating awareness among citizens about marine ecosystems care and fisheries national and world situation. Since its creation in 2017, this NGO has surveyed these issues both in Uruguay and in the Southwest Atlantic area.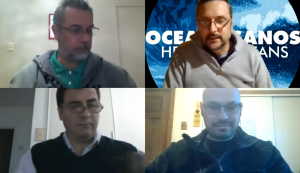 Marcelo San Martín presented a global overview of worldwide discards and bycatches problem of their impact on fisheries sustainability, highlighting the chilean experience, explaining the Discard Law implementation context in our country and the process that has been carried out in terms of research, regulation and oversight. Along these lines, San Martín highlighted the importance of monitoring fisheries through scientific observers and the vital need of countries to have on board catches records and not just what is landed; In addition, he gave examples of up to date obtained results, on discards and bycatch of demersal fisheries research program that has been carried out by IFOP, and how these have been a fundamental part in discards reduction, from users consciousness changes and subsequent measures adopted at national level by competent institutions.
Regarding his participation in this meeting, Marcelo San Martín commented: "it seems very relevant to me that neighboring countries are making progress in addressing discarding and incidental fishing problem in their fisheries; Without a doubt, it was a pleasure to receive the invitation to share the progress that we have had in the process that we have carried out in Chile. " In accordance with the above, for IFOP researcher, "this type of instance gives the possibility of promoting collaborative work –in this case associated with discarding-, contemplating that, although it is true, all fisheries have different realities, there are usually common problems. "It is important to share experiences so that other countries can take the hits and also learn from the mistakes when implementing their own programs aimed at addressing the local problem of the case."
Fishing captain and representative of the Argentine Association of Pilot Captains and Fishing Skippers, Jorge Frías, also participated in the instance, explaining the vision of their union on the subject.
More than 70 listeners linked to the fishing sector and renowned researchers from Uruguay, Argentina, Brazil, Mexico and Chile participated in the virtual table. The conference highlighted the vision and results shown in the Chilean presentation, highlighting the need to rescue the successes when applying them in their respective countries.