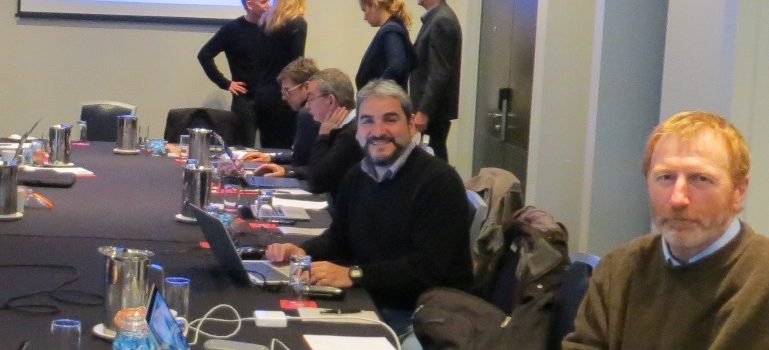 Research of IFOP participated as FAO expert in workshop on Orange Roughy
July 11th, 2016
Ignacio Payá, IFOP researcher, participated as an FAO expert in workshop on orange roughy conducted between 7 and 9 June in the city of Auckland in New Zealand.
The workshop is part of FAO ABNJ project, which is oriented to fisheries in areas beyond national jurisdictions. The outcome of the workshop will be a technical report of the FAO on guidelines for management of orange roughy fisheries in international waters. In this regard, during the workshop, experiences in stock assessment and management of these fisheries in different parts of the world were analyzed. Mr. Payá contributed with its experience in evaluating the stock of orange roughy in Chile.
Ignacio Payá said "it was a very rewarding experience both scientifically as human, since I could meet with old friends who make up the small group of global experts on deep-water fisheries, who have participated in the past in different IFOP projects and other institutions in Chile."
About Orange Roughy
Resource orange roughy (Haplostethus atlanticus) has been commercially exploited in Namibia, New Zealand, Australia, Northwest Atlantic, South India, Chile and other international areas between Australia and New Zealand. It is characterized by low biological productivity, be easy to capture in spawning aggregations and have a high economic value. Has a very slow growth. In Chile, individuals have been found of up to 150 years old and a very low growth rate.
In Chile, it was collected in the seamounts of Juan Fernandez archipelago, Bajo O'Higgins and Punta Sierra. The fishery of this resource was developed between 1999 and 2005, with catches from 700 to 2100 tons per year. Due to its low productivity fishing yields fell rapidly and biologically acceptable catch is very low (300 to 500 tons per year). Currently, it is in reproductive ban, and under the new fisheries law, it cannot be exploited in seamounts unless it is demonstrated that its impact on the ecosystem is not significant.