IFOP and Explora Valparaíso launch short capsules to broadcast marine scientific research
May 7th, 2021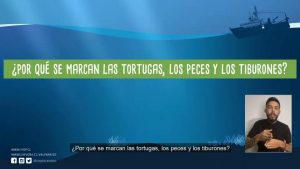 It is about "Science to protect the sea", a campaign made up of audiovisual content with sign language, which seeks to bring the ocean closer to all citizens.
Fisheries Development Institute and Explora Valparaíso Project, wich belong to the Science, Technology, Knowledge and Innovation Ministry, launched through their social networks "Science to protect the sea", animated content in which scientific research that It is carried out in Chile and in the Valparaíso Region for the protection of the oceans and marine species is broadcasted.
Luis Parot Donoso, Fisheries Development Institute Executive Director, explained: for us to be part of this important campaign is a source of pride, since it allows us in the month of the sea to bring the ocean closer to the entire community, the capsules show IFOP performed fishing and aquaculture research, teaches in a fun and didactic way, the importance of protecting our marine resources and invites us to raise awareness about our ocean care.
The project, which had previously been released in billboards format in Valparaíso Metro train stations, has now been adapted to an audiovisual format and with sign language, in order to reach different audiences and be shared with all citizens. In this way, each of the nine capsules that make up "Science to protect the sea" lasts an average of a minute and a half and in them you can learn about the work carried out by specialists from various scientific areas to understand marine species behavior and to get toknow details of its reproduction and distribution, in order to promote ocean care and responsible fishing.
For Mabel Keller, Explora ValparaísoDirector, with this type of content "we seek to share knowledge with people of different ages in order to bring science closer to everyone", Keller also points out that "as a Project we seek to strengthen scientific culture in Valparaíso's Region, and in order to approach this products creation such as this campaign become key issues, in which, thanks to design, playful format and animation, we manage to bring together diverse knowledge in a creative and understandable way for all audiences ".
It should be noted that, to carry out presented contents, the campaign was coordinated by Explora Valparaíso team and researchers team work from Fisheries Development Institute, and its design team. Likewise, contents were animated by Alias Film production company.
Find "Science to protect the sea" capsules and more scientific resources by following the social networks @exploravalpo and @ifop_periodista on Facebook, Twitter and Instagram.