IFOP and ATF Chile are developing an Identification Guide for seabirds in Chilean sea fishing areas.
May 29th, 2020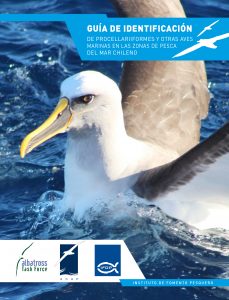 Jointly carried out by a researchers enthusiastic group from Fisheries Development Institute (IFOP) and Albatross Task Force (ATF-Chile) demersal's discard project. This guide contains approximately 50 species of pelagic and coastal seabirds, with morphological characteristics that help their identification.
This material's main objective is to support scientific observers, researchers and fishermen in the identification of incidentally caught seabirds in commercial fishing operations. This makes it possible to improve Chilean fisheries bycatch information collection, together with contributing to the knowledge of this important group of species and the necessary actions to reduce these birds mortality .
Luis Adasme, one of this work authors , stated: "We appreciate IFOP scientific observers important collaboration, marine life renowned researchers and photographers – both Chilean and foreign – who provided graphic material to achieve a document of high technical and visual quality The guide is in full color and excellent teaching material. "